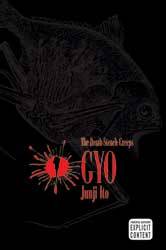 Everyone loves a good scare. Whether it's from the unknown darkness or from the known serial killer that stalks the night, everyone has something that scares them. Through books and movies, we can enjoy those scares from the safety of our homes. This month's Manga Movable Feast features not a single title, but the whole genre of Horror. So any title that makes your hair stand on end, makes you want to keep the light on after reading before bed, or hide behind the sofa while watching is fair game!
The Feast will start Monday, October 24 and run through the 31st. That 8 full days of terror! To join in the fun, just post a review, discussion, just about anything about your chosen title and send me a link either to xanadu [at]  jadedragononline dot com or on twitter at @mangaxanadu. If you don't have a blog but would still like to participate, I would be happy to host your entry.
Everyday I'll be posting links as well as my own thoughts about the genre. An archive of all the links will also be available on the Archive page. Please come and join us. We'd love to have you….