The feasting continues on day 6 like vampires at a blood drive, which some fresh, new faces joining our regulars.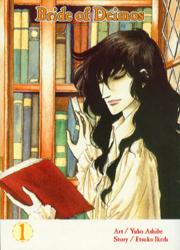 The day stars off with Connie C. of Slightly Biased Manga doing a comparison between American and Japanese girls horror comics from the 70s, chosing two titles to represent each genre.
Both Bride of Deimos and Secret Love are very gothic in nature. Both series rely heavily on dark atmosphere and melodrama to set the stage. Setting is key in gothic fiction, and these two stories are no exception.
It's a detailed article, but don't let the length deter you! She's got me convinced to try to find Bride of Deimos now, a problem I've been running to with this feast!
Brian Cronin of Comics Should Be Good returns for a third time, this time taking on a favorite of this feast, The Drifting Classroom. He sums the title up pretty succinctly:
There is a good reason this is such a respected manga classic. It reads as timely today as when it was written nearly forty years ago.
Over at the Hooded Utilitarian, their Drifting Roundtable about The Drifting Classroom winds up with the final article from Jog called "Classroom Minus Children." He looks at the adult protagonist of the series, Sho's Mother. Of her he says:
It must be said up front that in some ways Emiko Takamatsu (i.e. "Sho's Mom") is typical of artist Kazuo Umezu's depictions of mature women: "pretty on the outside, but ferocious within," as Jason Thompson put it earlier in this series.
If you like to listen to music while reading then you'll definitely want to check out Moldilox Chips, which has created a soundtrack for The Drifting Classroom. Make the reading experience of this title a true multimedia experience!
At Karaconner.com writer ABCBTom has a request for Manga Publishers, one that he thinks is in vain but will try anyway. Please license Franken Fran, which he describes as:
Because it's basically a horror-comedy version of BlackJack. The end.
Short and straight to the point. Publishers should like that. And with Black Jack hitting the NYT Top 10 it should make it more attractive. It seems David Welsh of Manga Curmudgeon had the same idea as his Friday License Request Day post was for the same title. David was set on this road by a comment that Fran was Pinoko from Black Jack, all grown up, which is understandable, considering his statement:
Now, you all know of my completely misguided adoration for Pinoko. I'm not going to bore you by repeating it, but she's so creepy and disturbing and precious and… ahem.
Johanna Draper Carlson of Manga Worth Reading rounds up the horror titles that have graced that blog over the years, and is rather surprised by the number of them.  Finally, I look at some Survival Horror manga available in English.
Come back tomorrow for the second to last day of all the links of the day.