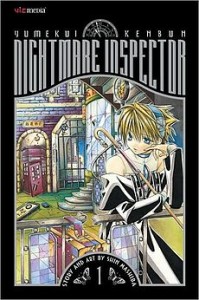 It's the night before Halloween, with parents heads filled with all the little monsters that will be coming to their doors and children dreaming of the haul of candy that also fills the dreams of dentists. But here at the Manga Movable Feast, Horror is still at the forefront.
Justin of  the Organized Anti-Social Geniuses looks at mangaka Usamaru Fuyura and his horror titles in the  Horror MMF Edition, first explaining:
When I first heard about Fuyura, I wasn't quite sure what he was cracked up to be. I did notice he had created a ton of works–while it seemed like they didn't last long, the fact that publishers ask him to continue to create works means he has to be a very good manga artist–and they tended to be on the darker side of the manga ledger.
Animemiz of Animemiz's Scribblings recommends some horror titles, and includes titles they are similar to for comparison. It's really helpful if you're new to horror and what a better idea of what you'd be getting yourself into.
Ash Brown of Experiments in Manga returns for some random musings about a title not mentioned so far in the feast, Nightmare Inspector. She explains some of the things that she likes about the series:
The exploration of the nightmares is one of the most interesting elements in Nightmare Inspector. The creativity and imagination that Mashiba exhibits is impressive, frequently changing art styles to reflect the dreamers' individual experiences.
Her musings have me seriously reconsidering the series. If only Square Enix's digital site wasn't such a pain, or such a mess, to deal with.
Derek Brown of Burning Lizard Studios has a manga review of Hellsing volume 1. He starts by explaining what he thinks vampires should be:
When I think vampires, I expect a lot of bloodshed and awesome carnage. I'm a little squicky on the drinking part, but when it's in black and white I can handle it well enough.
Lissa Pattillo of Kuriousity checks out Rightstuf for some bargain priced manga to help get in the spirit of the season. Finally, I look at yokai in manga, and the roles they play.
See you tomorrow night!