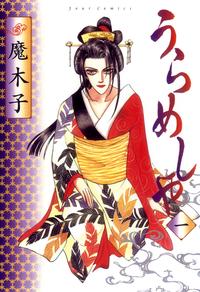 With the final day of the feast winding up, there are some last minute entries for your dining delight. Feast on these wonderfully horrific writings.
Ken Haley of Sequential ink joins the feast with a look at the manga One Missed Call and compares it to the movie that spawned it:
Scenes that were tension filled and unnerving thanks to Miike's direction, appropriate sets, lighting, music and more become a muddled mess here and the characters are even flatter than ever, feeling like little more than mouth pieces wandering aimlessly from one scene to another.
Anna of the Manga Report reviews Urameshiya vol 1, one of the new titles from J-Manga. She describes the series as such:
This is a historical variation on what I tend to call "spooky shop" manga, where a person with spiritual powers has to intervene in the lives of people who are affected by ghosts.
One of my favorite types of manga. I'm glad I bought it too. Ash Brown returns one last time with her Experiments in Manga with more Horror Quicktakes of Dragon Head, Grand Guignol Orchestra, and King of Thorn.
Jason Yadao  the column writer of Otaku Ohana for the Honolulu Star Advertiser puts in a last minute review of the 2 volume series Museum of Terror. He prefaces his review with this:
Several reasons spring to mind as to why those volumes sat for so long. On the outside, the covers are somewhat plain and don't reveal very much about the horrors that lie within; on the inside, the psychological suspense that the stories generate and the grotesque art, both hallmarks of the purest of Japanese horror manga, often ends up appealing to a very small subset of the contemporary young-adult, Shonen Jump driven manga market.
Noah Berlatsky of the Hooded Utilitarian returns for one last post, this time focusing on one story from Uzumaki. His article "Feund Snails", takes a deep look at the story and its possible sexual undercurrent:
His appearance here is certainly supposed to be repulsive…but part of why it's unsettling is that it's not-all-that-subtly sexual. Katayama's most prominent feature is his large, full-lipped disturbingly suggestive mouth. And, of course, he's covered in a nameless fluid, that seems significantly more viscous than rainwater.
While not officially part of the feast, I'd like to point out Otaku USA  helps with the Halloween mood with a review of Higurashi: When They Cry: Killing Time Arc Volume 2 by Danica Davidson. Here are some reasons why you might want to add this to your list of Halloween reads:
Parts of it are very spine-tingling and spooky, particularly Rika's predictions. Some pages have a truly chilling effect.
Over at Manga Village, the Villagers got together to discuss what makes a good horror manga to them. Reviewer John Thomas kicks things off with this:
What I love about horror manga is what I love about manga in general: the ability to know no bounds. Great horror manga has to be rooted in reality, but then stretch itself to the edges of believable be truly scary.
And finally, I end the feast with a look at Zombie manga.
Thanks to everyone who participated in the feast this month! It's been a lot of work, but also a lot of fun! I hope this feast got you into the mood for some scary fun. Have a great and safe Halloween!