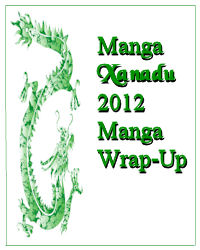 Here we are at week four of the great Manga Wrap Up, and thanks to being sick on Monday, I was able to get through four volumes of the next series I've decided to finish, Black Cat. I was off by how many volumes I had to read. I thought I had to start at volume 14, but I actually had to go back to volume 10 to find anything I remembered, so the extra time came in good use, but the being sick sucked.
Black Cat is about Train Heartnet, a former Chonos assassin who gives up his life of killing turns Sweeper, or bounty hunter. His weapon of choice is a gun that he can make fast and impossible shots with. His partner, Sven Vollfied, a former IBI agent also turned Sweeper. He possesses a "Vision Eye" that allows him to see a few seconds into the future, and makes all kinds of gagdets to help them catch their quarry. Joining them is Eve, a young girl whose body is filled with nanites that she can control and transform into any kind of weapon. She was created as an ultimate weapon, until Train and Sven freed her. Now, she travels with them, wanting to be a Sweeper as well. Train's past comes back to haunt him in the form of Creed Diskenth, also a former Chonos assassin who want Train to join him in taking over the world, along with his revolutionary group, Apostles of the Stars.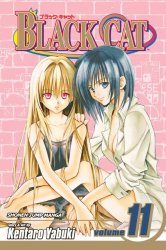 I really enjoyed reading the back half of this series. All of the introductory of plot and important characters was done and it could get straight to the problem at hand; stopping Creed. One of the things I really like about Black Cat is that it doesn't have a bunch of multiple arcs with multiple big bosses to beat. Through the 20 volumes there is only Creed and his minions. That isn't to say that there aren't obstacles, but the series doesn't have to be a series of battles, powers up and more battles that I've started to grow tired of in shonen manga. Train only gets one major power up throughout the series, and it's just at the half way point. He's already strong enough, and smart enough, to take on all of Creed's lieutenants. He only needs the power up to stop Creed, and even then, he still has aces to pull out of his sleeve before resorting to that power up to finally defeat Creed.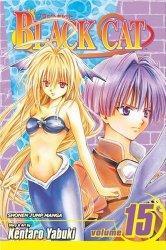 The story is tightly written. Once Train and his friends decide to go after Creed once and for all, the story is dedicated to following that path. The characters, which have seen some growth up to now, really come into their own in not only prepare for the battle, but in accepting who they are the path they have chosen. Sven finally accepts his "Vision Eye" as his own, and not just a gift from a friend. Eve grows not just in her ability to transform herself, but also accepts the path of protecting instead of just killing. And Train throws away the ideas of revenge and decides to take Creed alive so he can pay for his crimes. And along the way, as they battle the Apostles of the Stars, our heroes are able to reach out to the misguided members and show them there is another way to live.
These back volumes also give us more of Train's past, as we learn about what happened to Saya, the Sweeper that pushed Train off the assassin path, and there's even a bonus story that shows how Train and Sven met and became partners. The final volume ties up loose ends nicely as we get a glimpse of where our heroes, and villains, are a few years into the future, and things seem to be looking well everyone. It's a happy ending, and not at all forced.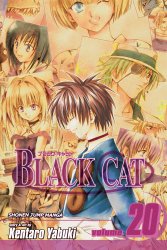 Yabuki called this series "Part 1", implying that there would/could be more stories with these characters. I really hope so. He created a great bunch, and I would love to read more about them. I especially liked Train, with all of his cat-like traits, and his love of milk is really cute. Yabuki has a great sense of humor that borders on wicked. I loved one scene when they are attacking Creed's hideout, and Eve uses a new attack that renders the guards….naked. The strategic positioning of some cats was hilarious! Black Cat is a series I may have second thoughts about giving away.
Since I finished up Black Cat so quickly, I decided to keep with the "Black" theme and also finished off Black Jack by reading the last two volumes. I'll be doing a full review of these two volumes, but let me just say I felt these were the weakest of all the volumes I've read. Not bad, just not as good.
Black Cat volume 11-20
Black Jack volume 16-17
Next up is Chibi Vampire. I know I stopped on volume 7 on this series, so I only have seven more to go. If time permits, I will finish up another series, though not one I've been reading regularly, Zombie Loan.