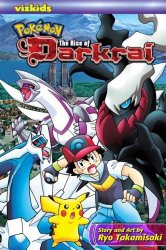 This week I didn't work on any particular series. I said it was because I wanted to catch up on some newer review copies, but really, I couldn't decide what series I wanted to to work on next. I thought I would be making some room on my review copy shelf, and I will be moving 3 volumes off my shelf, and on to my younger daughter's shelf. Another 5 may be moving on my keep shelf, with another 3 to add to them.
First, I read a trilogy of Pokemon movie adaptations. The Rise of Darkrai, Giratina and the Sky Warrior, and Arceus and the Jewel of Life are movies 10-12 in the Pokemon universe. I will be doing a full review of them for Good Comics for Kids. I first read The Rise of Darkrai, and then I got Arceus, and noticed it referenced back to Darkrai, and a title I didn't have yet, Giratina. So I traded for Giratina and finally read all three volumes. Since I'm doing a full review of these volumes, I'll just say that like all trilogies, the middle volume was the weakest.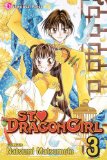 I finished up Pokemon quickly and moved on to a shojo series from Viz. I've had St. Dragon Girl volume 1-5 for a while, and had started on the first two volumes, but kept getting distracted. I finally decided to finish the volumes I have. I think this series is going to be another keeper. It's only 8 volumes total (unless Viz licenses the sequel series), and it's filled with beautifully drawn dragons. That alone is enough for me to want to keep on my shelf. I'm going to give this series a dedicated review in the near future.
Since the Osamu Tezuka Manga Movable Feast is next week, I'm going to try and read and review two titles that I've gotten recently. I liked the preview chapter of Princess Knight that was run in Shojo Beat issue 25, back in July 2007, so I'm looking forward to reading the whole series. I'm also going to give Apollo's Song another try. I couldn't get anywhere with my last attempt at writing a review. Maybe I'll do better this time, with another reading.
I've already pulled more books, so next week I'll be getting back on track with my cleaning up titles. I've already filled up my box, so it may be time for another trip to the library soon.
Pokemon: The Rise of Darkrai
Pokemon Giratina and the Sky Warrior
Pokemon: Arceus adn the Jewel of Life
St. Dragon Girl Volumes 3-5