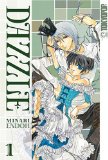 After a short Tezuka break, I'm back to playing catch up. Of course, mid-week I realized I had at least two other Tezuka manga titles I could have read for the MMF, but I barely got the two I had planned to do done, so there was no way I would be able to squeeze in two more! But I think three reviews here and two at Manga Village should be sufficient.
I dug back into Dazzle this week, an older Tokyopop title that was never completed. Only 10 of the available 12 were printed so far, but the series is also ongoing, so even if volume 11, which had been announced before the shut down, had come out, the series would still be incomplete. Now, I had thought I'd read the first 4 volumes previously, but since it had been so long, I decided to re-read them This was a good thing, since I didn't remember a thing since half way through volume 2. I got through the first five volumes this week, and will finish the series up next week. Dazzle is another manga that Tokyopop renamed, and I'm completely baffled why. The original title is The Unprecedented Game. Considering how much a game is referenced in the overarching plot of the story, at least keeping that part of the name would have made sense. I haven't found any way in which "Dazzle" seems to fit.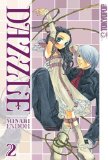 Dazzle is about a teenage girl named Rahzel, who is suddenly sent on a journey by her father, and told to go out and see the world. As she starts her journey, she meets a young man named Alzied, who has white hair and red eyes. He is good-looking but also very stoic. He is looking for the woman who killed his father. Rahzel decides to tag along with him, and he begrudgingly allows her to join him. Shortly after, they meet two of Alzied's friends from the army, Baroqueheat and Soresta. After some trouble, Baroqueheat decides to join Alzied and Rahzel, and the duo becomes a trio and continue on their journey, having lots of adventures and learning about each other, even as they are watched by a mysterious man who may have connections to all three.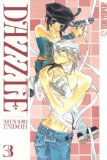 I originally picked Dazzle after reading a short review about it, comparing it to Saiyuki. And in many ways there is a resemblance. The cast is made up of three people who fight and bicker at each other more than get along. Alzied is the stoic straight man filling in the Sanzo part. Baroqueheat makes a perfect Gyojo as he has an eye for the ladies and a cigarette constanly hanging out of his mouth. And Rahzel is Son Goku. She's young, impetuous, and holds more power than she appears to be capable of wielding. Alzied carrying a gun, and is constantly whipping it out and shoving it into Baroqueheat's mouth when he says something he doesn't like. as well as Rahzel is constantly beating on Baroqueheat whenever he tries to make a pass at her. Baroqueheat takes all the abuse in stride, keeping a mellow attitude. Alzied and Rahzel trade verbal barbs, but it's obvious they care about each other even if neither will say it out loud. The story is also vaguely related as they are all traveling together, but they don't have the same reasons.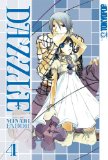 I really enjoyed the beginning of the series due to this initial similarity. I loved the character interactions. The abuse Baroqueheat takes is funny and often deserved. I also enjoyed watching them grow together and grow closer to each other. All three characters have secret, and often tragic pasts that they don't reveal immediately to each other or to the reader. Their stories slowly unfold as they travel, meeting new people, and get into sticky situations, usually due to Rahzel sticking her nose into other people's business. Early on, there are hints of something darker waiting in the wings. By volume 5 though, there had been plenty of character development, but I still had little idea about what was going on. There have been common themes about the failure of god, and as I said early, some sort of game that involves Rahzel. A surprising connection between the strange man who keeps appearing before Rahzel (and later Alzied) and Baroqueheat is also made, but so far I'm still not seeing a coherent story. So far it's just been the adventures of Rahzel, Alzied and Baroqueheat. The end of volume 5 does hint at more to come. But since I've seen this before in previous volumes I'm not holding my breath.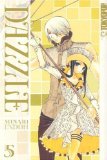 So far, Dazzle has been a fun slice of life as we follow the trio on their journey, but it's been really slow at getting to a point. Hopefully the next 5 volumes will actually start going somewhere. I hope the silly banter between Rahzel, Alzied and Baroqueheat continues although, I don't see that happening if the story starts to get more dark and serious. It's really the biggest draw for me, and unless something big starts soon, it will be the only thing it really has going for it. If you are a fan of Saiyuki, check out these first couple of volumes (if you can find them) and see what I mean.
For this next week, I will be continuing Dazzle, and will no doubt finish it. I'm also gonna sneak in some more recent titles, as I finally read A Bride's Story. The art is absolutely gorgeous, and I'm really enjoying Amir's story so far. I think I'm going to have to definitely order the next two volumes. It's a story that's right up my alley.
Dazzle Volumes 1-5
Shonen Jump March 2012
Tsugumomo Volume 1