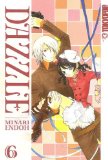 I really liked Dazzle when I first started reading it, but I was starting to lose interest by volume 5. Unfortunately volumes 6-10 didn't do anything to reverse the course. Any charm that I may have felt at the beginning was not only gone by volume 10, it had been stomped into the ground.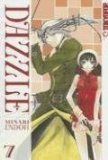 With these next 5 volumes, I was really hoping to seem some real plot development. You would think with 10 volumes under its belt, the reader would have an idea where the story is going. Sadly, that isn't so. These next 5 volumes has more tragedy, especially for Rahzel, but still little in plot development. There has been no explanation for Kiara's interest and subsequent frienemy treatment of Rahzel. As the series' villain, you would think his motives would be the most important to understand. But I have yet to see any rhyme or reason for his actions. It's implied that he is seeking away to try to get back a life that was lost with the death of Natsume, but that doesn't even begin to give a hint as to what that has to do with Rahzel. So far, the only connection between the two is that they both have black hair and blue eyes. That's kind of sketchy to say the least. What worse is that there doesn't seem to be any interest on the author's part to impart any of this vital information.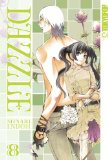 I'm also really sad that the dynamic between Rahzel, Alzied, and Baroqueheat that started the series seems to be gone with this second half. Revelations that are made and not made seem to distance the three from each other. And the addition of a whole group of new characters really keeps them from mending it. Rahzel's father, the scientist Shogetsu and his entourage and Rahzel's school friends keep the three apart and kills the fun of the first 5 volumes. I also really didn't like that Alzied was demoted to comedy relief. It really doesn't suit his character. I'm okay with him going emo about not being as strong as he thought, but turning him into a character that everyone laughs at and kicks around was just wrong. He didn't seem like the same character anymore and wasn't any fun to read.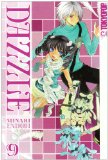 Another thing I didn't like was the change of venue. Rahzel, Alzied and Baroqueheat stop traveling and go to Rahzel's home, all because she can't say no to her father. The boys follow because they don't want to be separated from Rahzel, but the story really takes on a different tone, and becomes more of a high school drama than the fun and excitement of the travel.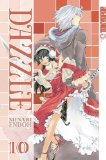 Dazzle is not a series I will be donating to my library. They deserve better than this, and with the cliff-hanger ending that volume 10 ends on, it really wouldn't be right. So I will either trade it or put it up on Paperbackswap when I start getting low on credits. If you're interested, make me an offer. This is also a series I don't see being picked up as a license rescue. A search around the web informed me that the mangaka tends to take off months, even a year at a time from this series in favor of her more popular series. It's not exactly licensing material, and if Tokyopop knew where the story was going, would have still licensed it? Yeah, probably.
Next week I will be starting on Kiichi and the Magic Books, a former CMX title, and one that is finished at least. I'll be working on some new releases as well, such as Durarara!!, and even though I didn't intend to participate in this month's Manga Movable Feast, I have been able to get my hands on a few Jiro Taniguchi titles, so I will be reading them this week as well. Well, one of them at least. Hopefully the other will arrive in time for me to read and review for the Feast.