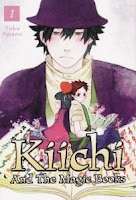 Week 10 comes to an end, and I almost didn't make it. Fortunately, I chose a short series this week and could easily catch up. It wasn't that I didn't want to read this series, but my kids are on spring break, and it meant a week where I could go walking, and catch up on some podcasts, and not worry about their homework. Well, my youngest anyway. I don't have to worry about my oldest.
The series I finished this week is Kiichi and the Magic Books. It is from the now-defunct CMX and is sadly out of print. It was part of the Flex Comics deal that CMX made in 2007. This same deal brought such titles as the all ages Suihelibe, the incomplete Deka Kyoushi and Break Blade (Broken Blade). Kiichi and the Magic Books is a five-volume series that's rated for Teen, but is also appropriate for Tween readers.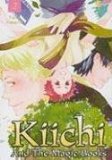 Kiichi and the Magic Books is about teenage orphan Kiichi. He lost his mother to disease when he was young, and has live alone ever since. He is shunned by the villagers of his home for the horns growing out of his head, and called an Oni. One day, a Librarian comes to his village. Librarians are wanderers that bring books to villages for people to borrow and read. They only stay for a short time before moving on. This particular Librarian is known as Mototaro, and he has the ability to bring the pictures in books to life. He is traveling a young girl named Hana. Kiichi sees what Mototaro can do, but when he tries to tell the other villagers, no one believes him. As part of his journeying, Mototaro is searching for old books that become unstable; that is, the pictures in the books come out on their own. When a tiger escapes from one such book, Kiichi helps to catch it, and convinces Mototaro to let him join him and Hana on their journey to find out more about himself and why he has horns.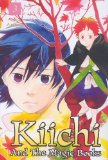 Being a bit of a bibliophile, this series got my attention by having the words "magic books" in the title. But the series isn't really about books. It's about Kiichi and how his journey helps the people he meets and travels with. At the beginning of their journey, Mototaro is cold and closed-hearted. He doesn't want Kiichi to join him and Hana on their travels. He rarely smiles, and seems more annoyed with not just Kiichi joining them, but by having anyone traveling with him. By the end, Mototaro has warmed up to Kiichi and does everything in his power to save him. Even after learning a terrible secret about Hana, he worries about her and keeping her safe as well. Saame, an Amamori, is changed by Kiichi as well. He starts out seeing the boy as a means to an end to help his people, but by the end, he learns who Kiichi really is and also fights to keep him alive and safe. Kiichi's ernest and caring nature affects those around him, even if they find his good-heartness naive or foolish.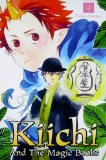 The story itself is an exciting, coming-of-age adventure. As soon as Kiichi leaves his village, he is off on a journey of discovery, both about himself and the world. The horns growing out of his head mark him as an Oni, one who is destined to become a "tree" and save the world, though no one really knows what that means. Is it literal or symbolic? The people he meets, first Mototaro, and then Mori, the leader of the Amamori tribe, all have pieces of the puzzle, but they don't know it, until they start to help Kiichi on his quest. Even though this is Kiichi's quest, everyone grows from the knowledge that is gained along the way. While the story has its dark moments, especially in the last volume, it ends happily, with Kiichi not only finding his answers, but finding a family and place to truly call home.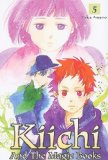 The art is clean, and the characters designs are simple. They vary perfectly so that it's not required to identify characters by their clothes or hair. Mototaro has a bit of a bishi look to him, when his hat is off. Mori looks like a bit of a buffoon, but that is really for show only. He is a strong, capable, and wise man, perfect to lead his people. The little bird living in the messy mass of hair on his head is a nice touch too.
Kiichi and the Magic Books was a fun read. Each volume moved at a quick pace, making it hard not to just pick up the next one and keep going. Tweens, and young teens will really enjoy this series. It's a series I think will do well at the library. With a title like "magic books" and traveling librarians for characters, how can it not?
Next week I'm on vacation, and probably won't have as much time for reading as I'd like. We have to find a new-used car and then we're Wonder Con bound! But I'll still try to squeeze in the one Jiro Taniguchi volume I have as well as my next series, Shiki Tsukai volume 1-4. I'm also going to finish the last print Shonen Jump. I've been waiting for it to end before I start on Weekly Shonen Jump Alpha. I'm a subscriber, so I've got a year to read them. Watch out for a separate post on that.
Kiichi and the Magic Books Volume 1-5