Moritaka and Akito's newest series Perfect Crime Party does well enough that they can start working on other things, such as beating their rivals. But some unexpected news sends them back to try to come up with a second series. But as each of them works on their specific talents individually, will it break up the team of Muto Ashirogi?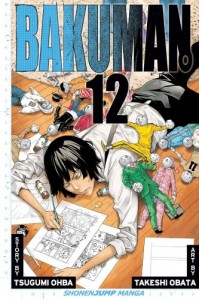 Story by Tsugumi Ohba; Art by Takeshi Obata
Publisher: Viz Media
Age Rating: Teen
Genre: Comedy/Drama
Price: $9.99
Rating:





Now that Moritaka and Akito have a series running in Jump again, the story can go back to their personal lives, as well as those of their rivals and assistants. While I do enjoy seeing process of making a successful manga through Moritaka and Akito, I've really come to like the other manga artists and assistants, and I do enjoy seeing what's going on with their lives and titles.
The artist we see the life most of in these two volumes is Shun Shiratori. He is an assistant to Moritaka and Akito. His mother, who wears the pants in the family, doesn't approve of Shun working on manga, so he runs away so he can work on creating his own title. Moritaka and Akito get involved to the point that Akito ends as the writer for Shun's manga. There is a lot of drama created from this, not just from Shun's family life, but also between Akito, and Moritaka and Kaya. It all comes down to a simple lack of communication, and Akito is so clueless that he doesn't see what he's doing to Moritaka and Kaya. A few words could have avoided the whole situation, but would have made the volumes just a little less dramatic and a lot shorter. Though I think it was Akito who deserved the punch more than Moritaka.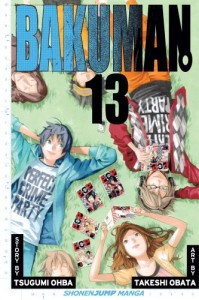 Hiramaru has always been fun to follow. Like, Eiji, he is a "genius" creator, but hates the work, so he is always trying to get out of it. His editor is constantly having to trick or bribe him into getting his chapters done. It's a lot of fun to see how his editor is going to manipulate him. One way he does this is by using Hiramaru's feelings for Miss Aoki. Promises of helping him get through afternoon tea with her gets Hiramaru to write a romantic one shot that becomes popular enough to submit for serialization, but when the day finally comes Hiramaru turns the tables on his editor and meets Miss Aoki alone. The ensuing chase is really funny, and when he finally decides to confess his feelings to Aoki, it's great to see Fukuda, Moritaka, Akito and Kaya show up to cheer him on.
I also enjoyed seeing Eiji finally create a manga that isn't a hit. His attempt at a romance doesn't break the top 5. It was good to see him finally feel what it's like, even if it was only for a one shot. Another thing I like about Bakuman, is the teasers for titles we get to see. Moritaka's romantic one-shot looked cute, and Hiramaru's romantic one-shot looked very funny. An entry for a contest that Akito and Moritaka are judging is shown at some length, Classroom of Truth, and is a title I would really like to read! It's really too bad so many of these will never really be serialized.
I haven't gotten tired of Bakuman yet. Ohba does a great job of keeping the story fresh, and balancing between the manga creation process and the lives of the artists. Just concentrating on one or the other too much would ruin the charm.
Review copies provided by publisher.