Facing a royal summons, Eren and his friends make one final attempt to capture the female Titan. While they are successful, a new crisis faces them as it appears Titans have breached Wall Rose and are pouring into the interior. The 104th scramble to evacuate the villages in their path and find the breach. A night at Utgard Castle is meant to be a refuge, but instead becomes a battle for their lives as the Titans attack at night.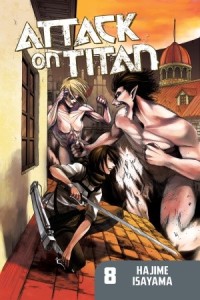 By Hajime Isayama
Publisher: Kodansha Comics
Age Rating: Older Teen
Genre: Horror
Price: $10.99
Rating:





I didn't think Attack on Titan was going to be a series I would enjoy. It's categorized as a horror title, a genre I'm very picking about. Reviews about the series were mixed with people either liking or hating it. I did read the first chapter in Kodansha's Unreal sampler, and wasn't impressed. But with the series rising steadily up the New York Times Best Seller list and Nielson Bookscan, there had to be something good that people were seeing about it. I received these volumes for review, and decided it was time for me to see for myself.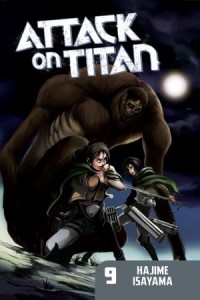 I was a little unsure, jumping into this series so far in. A comment on Twitter said that the series got better after volume 4, so I was encouraged slightly, but I was worried that I wouldn't be able to figure out what was going on or get any of the relationships. It was actually surprising how easy it was to pick up on the relationships between the characters. I really liked the relationship between Eren, Mikasa and Armin. The bond between the three of them was obvious right from the start. The scene where they were preparing to fight the female Titan really sold it without trying. They complement each other well. Armin is the brains, as his deductive reasoning figured out who the female Titan was. Mikasa is the quiet, brawn of the three. She is an awesome fighter, and looked cool as she took down the female Titan, flying up the wall and cutting off her fingers to prevent her escape. Eren is the conflicted hero that Armin and Mikasa support. His battle with the female Titan was actually pretty exciting. What really makes this trio work for me though, is the complete lack of romantic tension. These three are pretty solidly friends, and with all the action already, any romantic conflicts would detract from the already tense story.
These volumes also included a bit of character development for other members of the 104th. They are sent out to warn the outlying villages of the Titan breach. Sasha, a member of the 104th and Military Police Brigade, gets some nice exposition as she faces down a Titan alone. I enjoyed her back story. Ymir and Krista, two more members of the Military Police Brigade, have their story shown, which makes that seemingly harsh Ymir more sympathetic. This also leads to some shocking reveals by the end.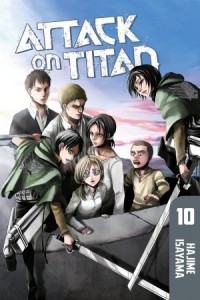 But then, that's what this series is good at; making shocking reveals, and then instead of explaining anything, just teases with possible answers that only lead to more questions. That's what really hooked me in. First it was the mystery of the Wall Rose, then it was the animistic Titan, and then revelation from Reiner and Bertolt. As one mystery is pursued, these other pop up that keep me intrigued and wanting to get that next volume just to see if there will be some answers.
There were a lot good battles in these volumes. Eren and the female Titan's battle was exciting, as was the battle at Utgard Castle. Not all of the battles were big, such as Sasha's small fight. but when they were, like at Utgard Castle, they were devastating. Everyone had to pitch in to protect the castle, but it was Ymir who really showed her mettle, proving herself to be smart as well as self-sacrificing.
If there is any problem I have with these three volumes, it's the art. It is very uneven, as there are times when the faces don't look like they are on straight, to very fluid moments in battle such as Mikasa's strike on the female Titan. But the story really overrides the art, and makes the not-so-great moments bearable. It fortunately also makes the gory moments not so gory. The Titan on Titan violence has such a surreal look to it, as eye balls pop, and Titan's grin with childish glee as they attack each other just as much as the humans. I thought the gore would be worse, but it wasn't as bad as I feared.
Attack on Titan is a weird combination of action, mystery and horror that it actually makes it a compelling read. I don't know how the beginning of the series is, but these later volumes show why every new volume hits the NYT top 10 and stays there for weeks on end. It's a series you don't want to put down. At least I didn't.
Review copies provided by Publisher.