A condensed retelling of the beloved samurai tale–one of the best-selling manga series of all time—released in conjunction with a new live-action movie.
During the violent upheaval of the Bakumatsu era, Hitokiri Battosai was a feared and ruthless assassin. But now that the Meiji Restoration has begun to heal the wounds of civil war, Battosai has taken up a new name…and a new calling! He is now Himura Kenshin , a rurouni wanderer who has vowed to only draw his sword to protect those in need. But not everyone is pleased with Kenshin's new direction, and enemies from his dark past have vowed to bring him down!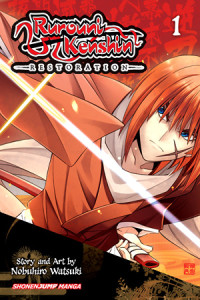 By Nobuhiro Watsuki
Publisher: Viz Media
Age Rating: Teen
Genre: Historical Fantasy
Price: $9.99
Rating:





It took a while, but I finally read all of Rurouni Kenshin last year. With a live action movie having been released last year in Japan, a re-imagining of the manga was created by original creator Nobuhiro Watsuki. This can sometimes lead to new and interesting directions for the title and characters to go. Too bad that's not what happened here.
It uses the same characters, but the story has been turned around a bit. Himura Kenshin is still a rurouni who stumbles upon a man masquerading as the Hitokiri Battosai, but this time it is during a tournament run by a merchant Takeda Kanryu. He is buying out the rights to dojos and using the leaders of them in the tournaments with the promise that they can buy their land rights back. Kaoru Kamiya is of course one of the participants. Yasuhiro works for Takeda, and is used as a reverse hostage to keep Kaoru in line. Kenshin gets involved of course, and defeats Takeda, who then hires eighteen assassins to kill Kenshin. In this volume Sanosuke and Saito are introduced with their stories greatly compressed. It also includes a chapter zero, which tells a tale of Kenshin before he arrives in Tokyo.
The volume is rather lean for a shonen jump title, coming in at 142 pages. I read all of these chapters in Weekly Shonen Jump Alpha where they ran monthly. I didn't care for this re-imagining then, and I still don't now. I don't have anything against re-imagining titles in general. I like to check out remakes, and can enjoy them and the originals separately. This new Rurouni Kenshin rubbed me the wrong way. Everyone seems angrier this time around. The art is also much sharper and more spartan. I didn't enjoy reading it or looking at it. This is definitely not the "meiji swordsman romance" and is much more a harder action title. I'm sure this will please a lot of the Shonen Jump crowd, but as I've grown tired of all but the best of shonen, it doesn't please me. If you think Kenshin would have been better with more of an edge and less of the character development, then this is the title for you.
Review copy provided by publisher.