Shojo Beat, Viz Media's romance and drama imprint has a fun surprise for fans of Arina Tanemura. They have available quick flash games based on the manga Mistress Fortune and The Legend of Princess Sakura.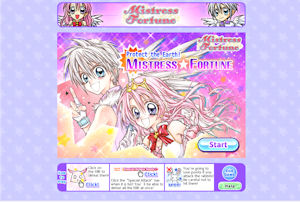 The Mistress Fortune game is a Whack-a-mole style game where you have to hit the EBE's popping out of holes, but you don't want to hit the bunnies! There is also a special attack when you fill up a status bar which can be used to hit all the EBEs on the screen. You get a rank at the end. I made Standard Angel on my first try.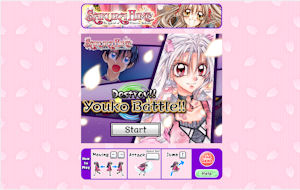 The Princess Sakura game is a basic platformer. You control Princess Sakura with the left and right arrows, up to jump and space bar to strike the enemy monsters that inhabit the level. There is a spell, Thunder Strike that will freeze the monsters for a few minutes and a piece to pick up. I generally suck at platformers so after a few tries I could only get to level two. But it's simple enough for any one to play and if you have more skill or patience, you can see how high the levels go.
I don't know if these are temporary or if they're going to be around for a while, so check them out while you can!