Seeing her father killed before her eyes, Noh-A flies into a rage, with most of it directed at Jack. As the two square off, the story of the previous Mirror Image unfolds, explaining who Noh-A's parents are, how they met, and why Noh-A had to be the next Mirror Image. It ends with the plans laid by Solomon and Camille in that past finally coming to fruition.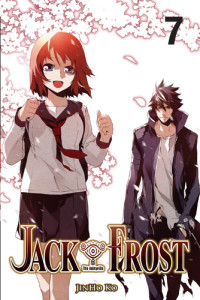 By JinHo Ko
Publisher: Yen Press
Age Rating: Older Teen
Genre: Horror
Price: $13.00
Rating:





Jack Frost has been a series I don't go out my way to read, but if it's available I'll give a perusal. I read it when I had a Yen Plus subscription, but it was a story that never seemed to have a specific direction. It was all a lot of fighting with Jack taking on opponents from the different factions within Amityville. Finally, there seems to be a light at the end of the tunnel, as events from the past are shown and connected with current events, and the story seems to have a direction.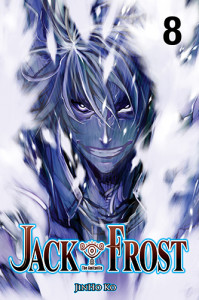 Jack and Noh-A face off against each other as Noh-A confronts Jack about the death of her father. This begins a long
flashback that shows how Noh-A's father, revealed to be Jack the Ripper and her mother, the previous mirror image, met and became a couple. I shouldn't be surprised that I found this interesting. I love getting the back-story of characters, a place or time. This is mostly Jack R's story. He drives the action, protecting Noh-A's mother and in the process falls for her. Noh-A's mother, who is unnamed for most of the story, is mostly dead weight. She is practically emotionless, letting Jack R take her wherever and just being the damsel in distress. I didn't care for her, and found Jack R's growth much more interesting.
What really made these volumes for me was all the back-story about the North District and the connection between Helmina, the Tailor and Solomon. What happened in the faculty lounge was shown, and it's revealed that Helmina's title of "Witch of the North" is more than just a nickname. She has a connection to Solomon, and more of who he was and why he was sealed away is revealed. But, I have a feeling we'll be seeing more of him in the next volume. The Tailor's motives continue to be vague in the past as it is in the future. He is key to Noh-A's birth and her inevitable return to Amityville. I find his possible agenda intriguing.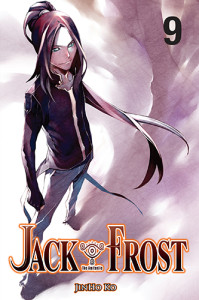 As the main character, Jack Frost himself doesn't get as much development as the other characters. He is still the one to beat around Amityville, and he still takes great pleasure in the killing. He and Jack R are sort of rivals, as Jack R was the previous wearer of the Devil's Thread, and even though he loses, Jack R gladly gives Jack F his showdown when they are face to face in the real world. This last scene for Jack R also explains the seeming contradiction of Jack F killing him, and yet telling Noh-A to look to Jack F for protection.
I still haven't been won over with these volumes of Jack Frost. But they do introduce enough new elements that I wouldn't mind reading the next volume. With Yen Plus is no longer being printed and the title no longer serialized, there shouldn't be as long a delay between volumes. But with Yen Press being one volume away from being caught up, it's gonna be a while until the next one anyway. At least with not a lot going on, there won't be much to forget.