Blue Exorcist made a splash when it debuted three years ago and was a hit among critics and fans alike. It joined Viz's digital edition of Weekly Shonen Jump as a monthly series in 2012 and has been simu-publishing with Japan ever since. With the anime due to premiere on Cartoon Network's Adult Swim's Toonami February 22, Viz Media is offering a discount on digital volumes 1-10 of the series for a limited time. I have the first volume I got for free for renewing with Shonen Jump Alpha, but I haven't gotten around to reading it yet. I should do that. The discounts are available through Vizmanga.com, the Vizmanga app, and partners Nook, Kindle, GooglePlay, iBooks and Kobo. For the best deal, go with Kobo or Kindle, if you can. Full press release after the jump.
VIZ MEDIA ANNOUNCES EXCLUSIVE
BLUE EXORCIST DIGITAL MANGA PROMOTION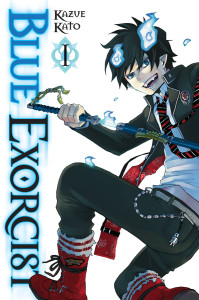 Fans Of The Smash Hit Paranormal Action Series Can Collect Volumes 1-10 With A Special Digital Discount Available For A Limited Time Only
VIZ Media announces a special digital manga discount on the hit supernatural action adventure series.BLUE EXORCIST. For a limited time only from February 22nd until March 3rd, fans can check out the inspiration for the anime debuting this weekend on Adult Swim's Toonami block with $1.00 off the digital MSRP (regularly $6.99) on Volumes 1-10 of the hit series, making all volumes available for only $5.99 (U.S. / CAN) each. The sale price will be available through the VIZManga.com and the VIZ Manga app for iOS and Android, and special pricing may be available through the digital partners storefronts for Nook, Kindle, GooglePlay, iBooks and Kobo.
BLUE EXORCIST is rated 'T+" for Older Teens and is published in North America by VIZ Media's Shonen Jump imprint; the newest chapters from Japan debut in VIZ Media's WEEKLY SHONEN JUMP digital anthology.
Raised by Father Fujimoto, a famous exorcist, Rin Okumura never knew his real father. One day a fateful argument with Father Fujimoto forces Rin to face a terrible truth – the blood of the demon lord Satan runs in Rin's veins! Rin swears to defeat Satan, but doing that means entering the mysterious True Cross Academy and becoming an exorcist himself!
Manga creator, writer and illustrator Kazue Kato is the creator of BLUE EXORCIST and was born in Tokyo on July 20th, 1980. In 2000, at age 19, she won the prestigious Tezuka Award for her work, Boku to Usagi (Rabbit and I), which was published in Akamaru Jump. From 2005 to 2006 her series Robo to Usakichi, a sci-fi adventure also featuring a rabbit, was published in the monthly magazine Shonen Sirius (Kodansha). Her acclaimed action series, BLUE EXORCIST, debuted in Japan in Jump Square magazine in April, 2009 and is published in North America by VIZ Media and also appears in the company's Weekly Shonen Jump digital magazine. Kazue Kato's forthcoming new manga series is titled, TIME KILLERS: KAZUE KATO SHORT STORY COLLECTION.
The free VIZ Manga App continues to be the top application for reading digital manga and features a massive library of the most popular series in the world. The platform features a massive library with over 2,000 volumes across more than 175 different series, and new series and volumes added every Tuesday. Through the innovative VIZ Manga digital platform registered users are able to use one account to view their purchased manga across more devices than ever. New series and volumes are added every Tuesday.
All manga volumes are generally available for purchase and download in the U.S. and Canada within the VIZ Manga application starting from $6.99 (U.S. / CAN) each and readers can also explore all titles with free Chapter 1 previews of every series. For more information, please visit VIZManga.com or www.VIZ.com/apps.
Download the free VIZ Manga App for Android and iOS devices at www.VIZ.com/apps.
To learn more about VIZ Manga, please visit www.vizmanga.com.