So far ever Student Council member who has gone up against Mafuyu has fallen to the team's superior friendship skills. But Kanon Nonoguchi has a plan to turn their strengths against them! She's spreading rumors that Midorigaoka girls are in danger and counting on Super Bun to run to the rescue…and right into her trap!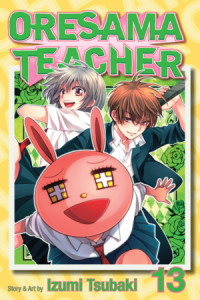 By Izumi Tsubaki
Publisher: Viz Media
Age Rating: Teen
Genre: Comedy/Romance
Price: $9.99
Rating:





Oresama Teacher has fallen into a bit of a rut as this volumes continues the Public Morals Club's battle with the Student Council, just as the previous 3 volumes have. This time they are up against man-hating Kanon Nonoguchi, who leads the special all girls class at the school. But the possible monotony this could get into is kept at bay by less Mafuyu and Takaoka, and more Natsuo and Bancho Okegawa, making this fun read after all.
The story starts out typically with Kanon trying to figure out who Natsuo and Super Bun, the "secret" members of the Public Morals Club, really are. Her plans are foiled by Mafuyu's clumsy and clueless nature, and Akki's willingness to cross dress. But it quickly turns from this into Kanon's story as her background is revealed, both her men-hating and her admiration of the Student Council President. I liked this switch up in the story. It kept the volume from becoming a "Student Council Member of the Week" volume into a more interesting story. I don't blame Kanon for her dislike of boys considering what happened to her. Boys teasing girls they like is one thing, but things really got out of hand with Kanon.
I loved that Natsuo, Mafuyu's boy disguise, got to feature so prominently in this volume. I like him better, both personality and appearance wise. I know Natsuo and Mafuyu are the same person, but I just really prefer Natsuo, so seeing him instead of Mafuyu made this a much better volume. The confusion Natsuo caused Kanon was more entertaining because the reader knows he's really a she. I also enjoyed the return of Okegawa, the cute-animal-loving former bancho of Midorigaoka. He's been a favorite of mine since his appearance in the second volume, so not only getting more of him, but also possibly getting him into the Public Morals Club just makes me more happy. The surprise appearance by Ayabe at the end was cool too.
I still can't say Oresama Teacher is a title I really like, but I'd be lying if I said there I didn't enjoy it. Parts of it anyway. I wouldn't mind continuing to check out the random volume. It's good for borrowing but It's still not making it onto my permanent print or digital bookshelf.