This second collection of short stories is really one long story and two ones. First Luna, Usagi's cat falls head over feet for a human astrophysicist whose discovery of a new comet also heralds new doom from an old enemy for the Earth. Then some of Rei's backstory is revealed is a tale of reflection and revenge, and finally in an undisclosed future, the children of Usagi and the other Sailor Scouts prove they don't fall very far from the tree.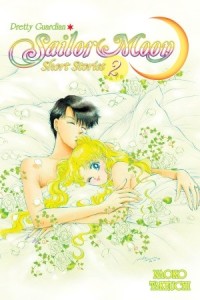 By Naoko Takeuchi
Publisher: Kodansha Comics
Age Rating: Teen
Genre: Romance
Price: $10.99
Rating:





I have limited experience with Sailor Moon, but I know just enough to know who everyone is and what is going on. The stories in this volume, while not all short, are still fairly entertaining, even if all them don't quite hit their intended mark.
There are three stories in this volume, "Princess Kaguya's Lover", "Casa Blanca Memory", and "Parallel Sailor Moon." Of these three, "Princess Kaguya's Lover" is the longest, and features the strange love triangle of Luna the cat, Kakeru Ohzora, an astrophysicist, and his childhood friend Himeko Nayotake. There were a lot of things I liked about this story. Luna getting to be the center of attention was a nice change, but I really loved the villain, Princess Snow Kaguya. She was supposed to rule over the solar system but was banished 4.5 Billion years ago, but has returned to reclaim reign. I liked that she wasn't after any of the sailor scouts, or to take the Earth specifically, but to rule over the whole solar system. It wasn't people that banished her, but the spirits of the planets, and that just appealed to me. The love triangle didn't so much, since it was obvious that Luna didn't have a chance as a cat, but the Christmas gift the other give her was very sweet.
I liked "Casa Blanca Memory" much more. It has a more traditional villain, but I liked that the weapon was memories and sentimentality. It's so easy for people to fall under the spell of these things, including the rather unromantic Rei. It makes a good vehicle to explore Rei's past and possible love interest without feeling forced. The seemingly never-ending rain adds to the atmosphere, drawing the reader into the melancholy mood of the story. Rei breaks out of the spell of course, because of her vow to never reflect on the past or fall in love. If anything, this episode only reinforces Rei's personal beliefs, which is rather refreshing.
The last story, "Parallel Sailor Moon" takes place several years in the future, where the sailor scouts are married and have children. The kids run off for their own adventure, with Usagi's youngest daughter Ko-Usagi stepping into her mother's shoes, cat and all. I didn't care for this story as much as the other two. It was supposed to be more humorous, but most of it fell flat for me. I just didn't care for the other girls trying to lose Ko-Usagi for most of the story, though I can see that happening in real life. The threat they have to defeat is a herd of rabbits which was cute, but overall, it didn't appeal to me.
What I really enjoyed about these stories, especially the first two, is the way Takeuchi incorporated antiques into the stories. Princess Kaguya was based on an Art Deco piece called Salome and her Snow Dancers were based on a porcelain piece called the Dancer. She wove these two pieces beautifully into the story and really gave those characters a unique appearance. I also loved the Art Deco lamp that became the basis of the Rain Tree. It looked like water cascading and made for a wonderful effect.
Overall, Sailor Moon Short Stories Volume 2 has some good stories with some solid moments. Takeuchi incorporates the holidays of Christmas and Chinese New Year without it being overt and creates some fun stories from objects you wouldn't normally expect to be used as models for a manga. Even through this is called a volume 2 the stories stand alone, and only basic knowledge of Sailor Moon is needed to enjoy them.