Misao has made the choice to forego college and a normal human life in order to be Kyo's wife and mother to the demon child she carries. But her pregnancy is unusual, even for the demon world. The last pages of the Senka Roku will reveal the truth of the matter, but now that Kyo has it in his hands, does he really want to know…?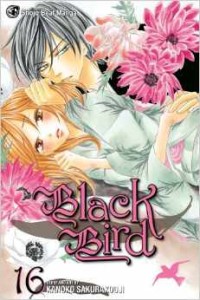 By Kanoko Sakurakouji
Publisher: Viz Media
Age Rating: Older Teen
Genre: Supernatural Romance
Price: $9.99
Rating:





I've had a love/hate relationship with Black Bird for a while now. I found Kyo's skeeviness annoying, as well as Misao's submissiveness. A lot of that changes with this volume. After defeating his older brother Sho, Kyo has learned the final fate of the Senka Maiden, and it doesn't bode well for Misao. Kyo sets the Daitengu to work trying to find a way to keep both mother and baby alive. A single clue left by Sho and some information from the Senka Roku just might hold the answer.
There are a lot of emotions flying around this volume. Misao is faced with the prospect of either she dying or her baby. Neither are acceptable to her. But there are a lot of tearful moments as she faces Kyo and the Daitengu about not only what will happen to her and Kyo, but also the others. It's kind of sad that it's surprising that she figures it out on her own. Misao would be a much better character if she wasn't played to be so dumb.
Kyo's internal dialog was the big draw of this volume. Now that Kyo and Misao are married, all the skeevy scenes are done and gone. Kyo is serious about his love for Misao and is desperate to find a way to keep her alive. This volume is probably the most convincing he's been about his feelings for her. He isn't leading her own or playing around. Everything he says and does is all for her, and it shows.
Kyo's observations about Misao and the changes he sees in her were the most interesting parts. He doesn't know what a pregnant human female is like, so he doesn't connect the changes at first. But as he starts to make the connections with the Senka Roku, and some of Misao own behaviors change, it really becomes clear that what she's going through is different. I do wonder if Misao's fear of Kyo isn't in some way an extension of the baby she's carrying. The change of perspective definitely makes these revelations more interesting, and Kyo into more of a detective as he works to solve the mystery of the Senka Maiden.
Once the story gets past all the drama and emotion between Kyo and Misao, the volume of Black Bird become what I've been waiting for all this time. Finally, the mystery of the Senka Maiden is being delved into. While there are no answers now, with this being solidly in the final arc, those answer will be coming soon, making the final two volumes must reads. I'm actually looking forward to them now.