Ririchiyo Shirakiin is a girl from a family of old money who also has Ayakashi blood as a genetic throw back to a human ancestor who coupled with an Ayakashi. She moves to Maison de Ayakashi because she want to become independent, but every one who moves into the apartment building is assigned a member of it's secret service. Soushi Miketsukaim is assigned to Ririchiyo, and he is about as devoted and protective as a dog, much to Ririchiyo's chagrin.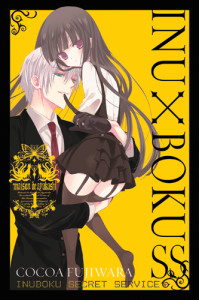 By Cocoa Fujiwara
Publisher: Yen Press
Age Rating: Older Teen
Genre: Supernatural/Romance
Price: $11.99
Rating:





I had my doubts about Inu x Boku SS as I started to read the first volume. I wasn't sure what to make of Ririchiyo at first. Her throwback is to a demon, and in some ways it seems to show. She speaks without thinking and comes off as mean and blunt. But that's not the real Ririchiyo. After speaking like that, she immediately regrets her words but doesn't know how to apologize properly. She is very awkward and is sincere in wanting to change. I didn't like her at first, but as I continued reading, I found her growing on me. I found myself sympathizing with her as bits of her past is revealed. I also found her naiveté endearing, since she isn't so much clueless as inexperienced with someone having feelings for her.
That someone is Soushi. He is very over the top at first with his devotion to Ririchiyo. He asks her to "dispose" of him when she tells him she doesn't need him at first. He waits outside her apartment for hours until she comes out. He even overreacts when she just leaves him alone for a few minutes while they are shopping. The devotion does get annoying at times. He uses it to manipulate Ririchiyo, something she realizes after he's gotten what he wanted. The reason Soushi feels so strongly for Ririchiyo is revealed, and all of his mysterious hints from when they first meet now make sense. Ririchiyo's interactions with Soushi start to change her, for the better.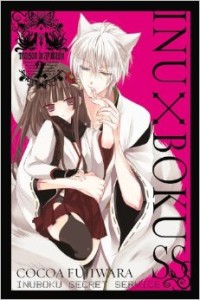 And it's not just Soushi that helps her change. Interacting with the other tenants of the building help her as well. Sorinozuka is Ririchiyo's childhood friend, and isn't fazed by her personality. He has ittan-momen blood in him, and spends as much time as a bolt of cloth as he does a human. Roromiya, a SS and Watanuki, a tenant, go to the same school as Ririchiyo, and they become friends, despite Watanuki's continued claim that he is a delinquent. Watanuki has tanuki blood, but is a smaller type, and usually ends up as comedy relief. Zange is Watanuki's SS, and he is rather mysterious and meddlesome. He helps Ririchiyo reach out to others and make friends. He also has a second sight that bode ominous things in the volumes to come.
Sadly, not all of the characters are likeable. After the first volume, I though Yukino, Sorinozuka's SS was the most annoying with her yuri inclinations and shouts of "smexy" at Rirchiyo and Roromiya. And then Kagerou Shoukiin was introduced. He is a tenant of the building, and Roromiya is his SS. He is always traveling and isn't at the building much. He is also a sadist, always wearing a masking and calling people "trollop" and "sow". He labels everything as a "S" or a "M". I dislike him, and can't decide if he's supposed to be funny or menacing. Either way, I can't take anything he says or does seriously.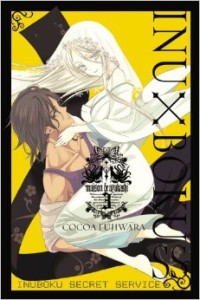 Overall, I do like the direction of the story. While Ririchiyo and Soushi are the main couple, I like that the other tenants aren't just there to support them. Watanuki gets a nice chapter that explains his obsession with being seen as a delinquent. Even the staff at the apartment building get some page time. After everyone is introduced, they continue to show up, such as cook Kawasumi and his son, and Concierge, the scary-looking nekomata throwback that is more pussycat than lion.
Zange's premonition at the end seems to predict something dark on the horizon for Inu x Boku SS. As much as I've enjoyed these volume and their slice of life stories so far, these characters have ayakashi blood in them. There have only been short moments of action with them turning into their throwback forms. I'm looking forward to more of this, along with all the relationship development we've seen so far.  If you like supernatural romances or stories about yokai and ayakashi, definitely pick this series up.
Buy Volume 1
Buy Volume 2
Buy Volume 3
Review copies provided by publisher.