Cut alive from his mother's womb after she had been eaten by a rampaging Titan, Kuklo has spent his life in chains as a freakish curiosity and a feared abomination. Eventually the boy they call the "Titan's son" finds himself sold to wealthy merchant Dario Inocencio as a plaything for his cruel and ambitious son Xavi. Kuklo knows nothing but abuse and neglect, but help may come from the most unexpected place…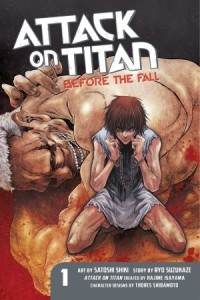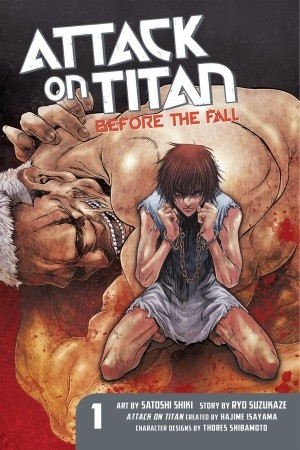 Written by Ryo Suzukaze; Art by Satoshi Shiki
Publisher: Kodansha Comics
Age Rating: Older Teen
Genre: Horror
Price: $10.99US
Rating:






Buy the Book
Even though it was easy to get into the original Attack on Titan fairly late in the series, it's even better when you can start at the beginning. Attack on Titan: Before the Fall is prequel to the original series, taking place 70 years in the past. While it didn't take much to get me onto the original Attack on Titan bandwagon, I was jumping even faster to ride with Before the Fall.
The story follows Kuklo, who has been persecuted and abused his entire 13 years for doing nothing but surviving. He burst from his mother's womb after she had been eaten by a Titan, and people's fear and misunderstanding made him the freak and outcast we see at the beginning. He can barely speak and has very few thoughts beyond surviving. He doesn't understand why he's beaten and ridiculed, and can barely speak, but he does have the presence of mind to know when he wants it to end.
Enter Sharle, the daughter of Dario Inocencio. She fears the Titans and their "son." She decides to do something about him one night, and discovers Kuklo is no Titan, but just as human as she is. She is a kind and caring person. She helps Kuklo, first by feeding him, then by understanding him. A friendship grows between them as he learns about Titans and the human world, and he plots his escape.
I enjoyed this volume. Kuklo's and Sharle's relationship really pulled me in. I understand why Kuklo's origin and dark history had to be shown, but it didn't compel me as much as Kuklo's realization and growing determination to learn about both humans and Titans. His driving need to know if he really was a "Titan's son" made the continued abuse tolerable. Sharle was just as interesting. The daughter of an aristocrat wouldn't be expected to pick up a dagger and try to kill a Titan. She showed strength along with her tenderness, and a mercy Kuklo had never known. I was really glad the volume ended the way it did. Kuklo shouldn't be the only one escaping a cage, and Sharle is stronger than she thinks.
The volume did feel kind of short, with only three chapters. The original "trailer" for Before the Fall was included to help fill up the space. It does look like a movie trailer, with narration, lots of Titan action and one shocker to reel you in. If you look at it that way instead of as a chapter, it makes a lot more sense.
The art is very different from the original manga. In a lot of ways it's better. The style reminded me a lot of The Guin Saga Manga published by Vertical, Inc and illustrated by Kazuaki Yanagisawa. Shiki did a good job of expressing the characters' emotions, especially Kuklo's. His expressions are the only way to tell what he's feeling for much of the volume.
You don't have to have read Attack on Titan in order to enjoy Before the Fall. The story stands on it's own with two great lead characters that I am looking forward to following in the coming volumes. In no way is their journey going to be easy, but it is sure to be filled excitement.
Review copy provided by publisher.