The young Erwin Smith is a rising star in the Survey Corps, humanity's only hope of defeating the man-eating monsters known as Titans. Ruthless and dispassionate, Erwin's mind is devoted to strategies and intrigue. But beneath Erwin's feet is another world, the Underground, where humans are born and die surrounded by the garbage the Capital throws away. Here, the criminal Levi survives on his wits and agility. But when these two ambitious men cross paths, who will prove himself stronger?
Attack on Titan: No Regrets Volume 1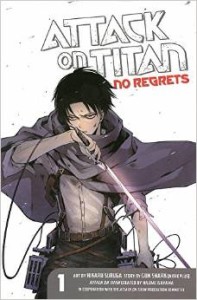 Written by Gun Snark (Nitropolis); Art by Hikaru Suruga
Publisher: Kodansha Comics
Age Rating: Older Teen
Genre: Horror/Shojo
Price: $10.99
Rating:





I went into this volume with no preconceived notions. I started reading Attack on Titan late in the series, at volume 8, so while I had heard of the characters Erwin and Levi, I didn't know who they were. I knew they were important leaders in the Survey Corps, and big deals to fans. This story alone was enough to increase the circulation of the magazine it was published by 10 fold. Even though this story is supposed to be about both Erwin and Levi, this volume at least, is really all about Levi.
Levi is the leader of a trio of thieves who use Survey Corps maneuvering gear to get around the Underground where they struggle to survive. Levi is a stoic man of few words. He has perpetual dark circles under his eyes and doesn't seem capable of smiling. But he cares a lot for his friends Furlan and Isabelle, the only two people in the world he trusts. He will fight and possibly kill for them, and they look up to him as a protector and leader. He is incredibly skilled in using the maneuvering gear, despite having never been taught formally, which is what catches the attention of Squad Leader Erwin Smith.
Erwin is a very earnest member of the Survey Corps, and rather savvy with manipulating the political side of things to get what he wants. He is determined to do anything and everything it takes to build up the Survey Corp. He recognizes the threat the Titans pose, even as the people and politicians grow complacent after so many years without a breach. He is even willing to work with criminals, by bringing in Levi and his group. Erwin isn't seen much in this volume, but it is obvious he is watching them.
Levi and his friends have some prejudices to get pass after joining the Survey Corps. Some members and the leaders object to people from the Underground being brought with no military training. But, as they train with the other squad members, many of them start to see their strengths. Isabelle has an affinity with animals, which lets her show off her riding skills. Furlan is the calm and sensible one of the three, trying to keep the peace, mostly between Levi and the others. He also has some plan in mind, that somehow involves Erwin, but only hints have been dropped so far. Then there's Levi. His skills are no illusion as he shows in both training and actual combat. His more unorthodox methods bring down a Titan, and his skills take it out. Levi is almost as awesome in combat as Mikasa!
The art is a well done, looking enough like Isayama's style while still being good. I love Levi's fashion sense, both in his civilian clothes and in his Survey Corps uniform. The Ascot is just perfect on him! The action sequences are well done, with lots of lines flying, clouds of smoke from the canisters and swords gliding through the air. There really isn't a moment of this volume I didn't enjoy.
Attack on Titan: No Regrets Volume 1 is a great start to a series about some provocative characters. Since this is an origin story, it's not necessary to have read the main series to enjoy this one, but a basic understanding of the universe would help since there are no explanations. I'm looking forward to volume 2 but not the wait until October. I'm also sad that it will also be the last volume. I wouldn't mind watching Levi and the gang for another couple of volumes.
Review copy provided by publisher.