Oriko is a magical girl with foresight. She is struck with a terrible vision of the future-of the devastation to be caused by one powerful witch. She decides she must do something about it, and she is willing to use, and if necessary sacrifice, anyone to stop this threat. But what will she do when her unstoppable force hits an immovable object determined to protect the very one Oriko seeks to destroy?
Puella Magi Oriko Magica Volume 1-2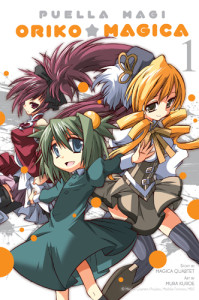 Story by Magica Quartet; Art by Mua Kuroe
Publisher: Yen Press
Age Rating: Older Teen
Genre: Fantasy/Magical Girl
Price: $11.99
Rating:





I didn't care of Oriko Magica when I read the first volume. I didn't like Yuma, and didn't see where the story was going, until I read the second and concluding volume, which not only put everything into perspective, made the series a fantastic read.
Oriko Magica is set in an alternate universe to the main Madoka Magica universe. In this world, Kyouko save a young girl Yuma, and takes her in. But Oriko, with her foresight, has seen that she has the potential to be a magical girl and manipulates both Yuma and Kyubey into making her a magical girl. Meanwhile, Mami learns of another magical girl, a black magical girl, that is hunting other magical girls. These distractions allow Oriko to get close to her target; Madoka, but Homura is there to protect her, and final, climatic battle ensues to decide the fate of both Madoka and the world.
When this series began, I struggled with the differences in the characters. I had read the main Madoka series, and knew the characters. This series is a slightly different take on them, with Mami living past the first few chapters, and Kyouko being more willing to help out others. She takes in Yuma, and does her best to protect her, both from danger and Kyubey. I really enjoyed seeing Mami in action. She gets an extended battle with Kirika, the black magical girl, where her power and intelligence really shines. Homura only really shows up for the final battle and Madoka and Sayaka are more side characters despite Madoka being everyone's target.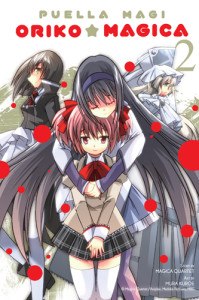 Since it is a Puella Magi * Magica series, the characters have to have tragic back-stories. In these two volumes we only get Oriko's, Yuma's, and Kirika's, but they hit pretty hard on the tragic scale. There is child abuse, bullying and neglect, and even some self-hatred, but they all fuel each girl's reason to become a magical girl, and each fulfills their wish in the end.
Oriko's wish and motive didn't seem obvious, even though she made it very clear from the beginning. She wanted to protect her world. As the story unfolds, and we learn more about Oriko's past and her present target, things start to make sense. It's really interesting that the two people who most want to stop Madoka's transformation have a form of time manipulation as their magical power.
What really sold me on this story was the twist at the end. I have to admit it blew me away. It wasn't until I saw that scene and made the connection to the main series that it all clicked and the title went from being "meh" to being awesome. What ever you do, don't read this series without reading the main Madoka Magica series first! The twist at the end is all the more powerful when you know what Homura's been trying to do.
Puella Magi Oriko Magica is a fantastic side story to the Madoka Magica story. It still holds the ray of hope against the despair the magical girls face when they learn their eventual fate. It's also fun to watch Oriko play with Kyubey. A little "turnaround is fair play" isn't a bad thing. It can easily slip into the main Madoka story-line and feel perfectly in place. This title is a must for Madoka Magica manga fans.
Review copies provided by publisher.