In Edo, there is a woman with incredible supernatural powers known as Oyou, the Urameshiya. She is able to banish spirits haunting humans. But her power is a double-edged sword as she is feared by the same people who ask for her help, except for the outcast pickpocket, Saji. After a chance meeting, Saji is attracted to both her beauty and ability, and together they take on the supernatural in Edo.
Urameshiya Volume 1-3

By Makiko
Publisher: Jmanga.com/Futabasha Publishers
Age Rating: Mature
Genre: Supernatural/Mystery
Price: $4.99/OOP
Rating:





Urameshiya was among the first selections available when Jmanga went live. I had seen it recommended by fellow bloggers, but its mature rating left me with some trepidation. I put off reading it until Jmanga released their Android reader app. My misgivings were completely unfounded, as I started reading the first volume, and worked obsessively through to the third, with little desire to put my tablet down. This title combines complex characters in realistic relationships with well told tales of the supernatural to create a very entertaining manga.
Oyou, the protagonist of this title, is an outcast from society. Her strong powers make her someone people fear to anger, but at the same time do not want around. She has no family and few if any friends to speak of. Because of her circumstances, she has little use of the niceties of society. She direct, and often blunt when dealing with people, wielding her sharp tongue will little what other will think. No one will want her around or stay with her, so why bother trying to make friends? Even with this attitude, Oyou still helps when she is asked, and sometimes even when she isn't. She doesn't tend to take payment for her services, as she doesn't want to profit from her powers. She believes she will always be alone until she meets Saji.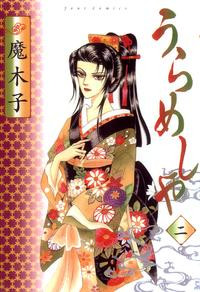 Saji is also an outcast. He works as a pickpocket at the beginning, which is how he first meets Oyou. He tries to steal her purse, but she catches him. They end up spending the night together. Afterwards, he seeks her help avenging his friend who was killed by a ghost. While Saji is spooked by Oyou at first, he is able to see Oyou for who she is, not what she can do, and promptly moves in with her. Over the three volumes, Saji shows himself to actually be a good-hearted man, taking on more legitimate work, and even takes over a food stand to help out a friend when he gets sick. His devotion to Oyou is unquestioning, though he does get frustrated with her attitude and secrets about her past.
I enjoyed the relationship between Oyou and Saji. It came off feeling very realistic. After a lifetime of being rejected because of her powers, it is difficult for Oyou to let Saji in. Why bother when he is just going to end up leaving her. But Saji is persistent, and doesn't let her push him away. His frustration with her is understandable, since she can be inscrutable at times, leaving him in the dark about her feelings for him. This forces him into some bad situations, such as trying to make Oyou jealous by sleeping with a promiscuous daughter of a well-off business owner, but he really is devoted to her. Oyou shows her feeling for him too, in her own way, though she is still loathed to admit them.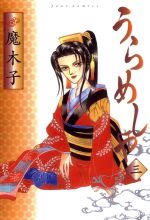 The supernatural side of the series is just as interesting as the characters. Most of the stories feature someone coming to Oyou for her help, or Oyou and Saji stumbling on a problem that Oyou's powers can solve. They confront ghosts, yokai, and curses that coast the edgy side, such as the girl who is curse with vagina dentata. That was a hard chapter to forget. While some of the hauntings were by spirits wronged in life, not all of them were ghosts looking to be avenged. Some, like the fallen God of Spring were just plain malicious, and maybe the scariest of them all. By the second volume they are joined by Touka, a fox spirit, who wishes to win Oyou away from Saji by hook or by crook. He becomes a sort of sidekick, helping Oyou out when he can. While I enjoyed all of the chapters in these volumes, I most enjoyed the stories based in more traditional Japanese horror, such as the Yuki-Onna, and the 100 Ghost Stories chapter.
The art of Urameshiya isn't perfect, but it's serviceable. Because I love the characters and enjoy the stories so much, I can forgive most of its imperfections. The title is rated mature and for good reason. There are plenty of sexual situations, but they aren't gratuitous or graphic. They are what you would expect to appeal to older women, which makes me the ideal audience.
The biggest problem I have with Urameshiya is that we only got 3 volumes. The series is currently at 19, and unless Crunchyroll decides to pick it up, There is probably very little chance we will ever see this series again, print or digital. But if Crunchyroll wanted a way to get my money, licensing Urameshiya is one sure way to get it.