With their identities revealed, the Colossal Titan and Armored Titan kidnap Eren and Ymir and try to escape. The Survey Corps is on their tail though, led by Erwin, Commander of the Corps himself. It is another massacre, but they still escape with the help of a new ability exhibited by Eren. Back behind Wall Rose, Levi and Hange begin experimenting on Eren to learn his strength and weaknesses. But with the internal MPS under royal command on their trail, it becomes apparent more drastic measures will need to be taken to save humanity from annihilation.
Attack on Titan Vol 11-13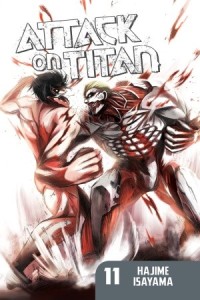 By Hajime Isayama
Publisher: Kodansha Comics
Age Rating: Older Teen
Genre: Fantasy/Horror
Price: $10.99
Rating:





The one thing I find frustrating about Attack on Titan is how well the story can continue to ask more questions about the mysteries of the world than it ever answers. These three volumes throw out lot of clues that only lead to asking more questions about what's going on, tantalizing the reader with the possibilities of answers and then leaving them hanging. But the questions are so compelling that you have to keep coming back for more.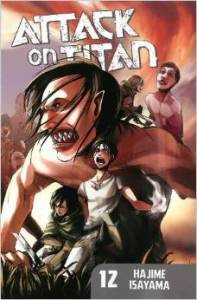 Since the start of the series, the question of how humans can turn into Titans has been on everyone's lips, especially with Eren not having any idea that he could do it. It's been clear that Eren is special, but it becomes more clear in these volumes. Reiner and Bertolt were on a mission to kidnap Eren. Annie had the same objective. They intend to take him to their "home town," a mysterious destination we've heard about, but know nothing else. Reiner and Bertolt seem to know Eren has a special ability, that he finally displays in order to save Mikasa during the Survey Corps attempt to rescue him and Ymir. The bigger question though, is, how did they know, and who sent them? Ymir has a clue, but she chooses not to share it with Eren when she thinks there's a chance of reuniting with Krista, leaving Eren and the reader in the dark.
There are some revelations in these volumes, though they are small. The Ape Titan, last seen in volume 8 is brought up again, as Ymir makes the connection between it and the Titans mysteriously appearing behind Wall Rose. Hange makes the same connection with Connie, between the Titans and his village. So that mystery is solved, but not how or why. Again. Krista's/Historia's past is revealed, as is a possible connection between the Reiss family and Eren. Another mystery left dangling in front of the reader, as is the continued mystery of the Wallists and the secret of Wall Rose.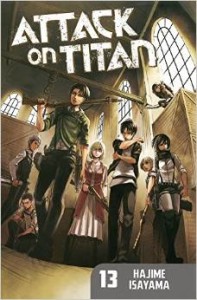 There was some good character development in these volumes. Mikasa finally confesses her feeling to Eren, and they make it through. It was offset by the desperate situation the rest of the Survey Corps was in, but worked very well. After so much heavy action and death, the lighter moments that made up the first have of volume 13 was a nice reprieve. Sasha earned back her name of "potato girl." Jean still has a crush on Mikasa, and they all bicker like the friends they became in training. I really loved Eren's concern about getting their hideout cleaned enough to satisfy clean-freak Levi. The look on his face when Levi brings it up is priceless. Krista's transformation into Historia definitely made her a better character. She seemed so weak-willed as Krista. But her new, devil-may-care attitude as Historia made her more appealing to me.
Attack on Titan Volumes 11-13 do a wonderful job of continuing to build up the plot while also letting the characters grow. Eren sees how his big talk is all just that. He still doesn't know enough about his abilities to beat either the Colossal Titan or the Armored Titan. Levi says Eren needs to be sent to the depths of despair, and his fall starts with that knowledge, but he is just stubborn enough to keep going. The question of Eren's father and what he might have done to him before the attack on Wall Maria keeps coming up, and I have a feeling will play a big role in the mystery of the humans-turning-into-Titans. If we ever get more than sublte clues. These were another great set of volumes with a lot of great moments. I can't wait for the next one.