Shiro turns down an offer to become a celebrity and Kenji's culinary adventures are reprised. Accomplished home chef though he may be, Shiro proceeds on the assumption that no two of his curries will ever taste the same in a manga about a gay couple for mature–in the true sense–readers.
What Did You Eat Yesterday? Volume 4-5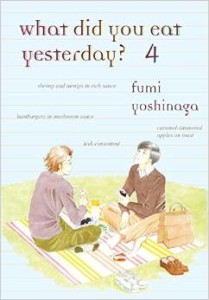 By Fumi Yoshinaga
Publisher: Vertical Comics
Age Rating: Older Teen
Genre: Cooking/Slice of Life
Price: $12.95
Rating:





What Did You Eat Yesterday? continues to follow the lives and menus of two gay men, Shiro and Kenji. These volumes expand more on their personal lives served up with a staggering menu of dishes such as bean rice, horse mackerel tataki, hamburgers in mushroom sauce and caramel-simmered apples on toast.
Shiro, the cook and penny-pincher of the pair gets pulled into personal problems with his co-workers and friends with the temptation of free food. It seems like a good deal at the start, but there is always a catch, and seeing Shiro's reaction, usually internal is always funny. But even though he has to listen to his boss complain about her daughter-in-law, or his female friend Kayoko's husband butt into their daughter's life. Shiro also gets a nemesis; a checker at his favorite grocery store who always finds a way to own him, but helps him at the same time. I loved that he got one that was so dead-panned and oblivious to Shiro's dismay.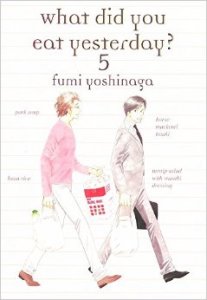 These volumes also brought in more gay couples for Shiro and Kenji to interact with. Tetsu and Yoshi are a couple who don't live together but have been together for a long time. Yoshi is the owner of several restaurants, so Shiro is put on the spot when he has to cook for them. Through Kayoko, they also meet Daisaku and Wataru, a couple more like them. It was really interesting watching the interactions between the couples. Shiro, who one would think would be more comfortable with other homosexual couples, was just as uptight, and afraid of being out. Going to a jewelry store to get matching rings for them nearly kills Shiro from the stress. But knowing when someone is gay can be useful as it helps Shiro get out of a difficult situation where he was being pressured to appear on TV.
Dealing with family doesn't improve much though. A glimpse of Kenji's home life growing up is given as the tells Shiro about his mostly absent father. But Shiro going home for New Years was the best. It was like a ticking time bomb as Shiro and his mother got on too well before it exploded into usual shouting match about Shiro not being proud of his gayness. It was great, with every page turn, just wondering when Shiro's mother would finally say something. It was so funny when it finally came out.
The food making was in full swing through these volumes, sometimes even playing a part in the story. Shiro really stressed out over what to make for the dinner party with Yoshi and Tetsu. When Shiro and Kenji have a fight, it's Kenji who gets Shiro to relax again by asking for a specific meal for dinner. And when he has a particularly difficult day at work, he takes it out on dinner, with lots of chopping and a few servings too many being made. While I can still do without the long-winded food commentary, I did enjoy it being pulled into the story more and not feeling so tacked on.
What Did You Eat Yesterday? remains a fun slice of life. Shiro and Kenji continue to deal with problems anyone of any orientation can relate to, while also sharing more insights into gay relationships. This series is relaxing and a real pleasure to read.