With their new series, Moritaka and Akito start beating Eiji Nizuma in the Shonen Jump rankings for the first time. But in the actual book sales Eiji is somehow still on top. The duo is as determined as ever to achieve their dreams, but a new scandal threatens to destroy everything!
Bakuman Volume 19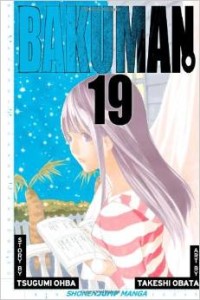 Written by Tsugumi Ohba; Art by Takeshi Obata
Publisher: Viz Media
Age Rating: Teen
Genre: Drama
Price: $9.99
Rating:





This is it; the second to last volume of this series. When I read the first volume back in 2010, I didn't think I would enjoy it or it would be able to hold my attention. But against all odds, it not only got past the problems I had with the first volume, it surpassed all my expectations. Ten years have passed since Moritaka, Akito and Azuki started chasing their dreams, and now those dreams appear to be in reach.
The volume starts on the manga side of the story, showing further the rivalry between Ashirogi and Nizuma. I really like the rivalry between these. It's very friendly. Both sides can not only appreciate the other's work, but they can come out and say it, while in the same breath vow not to give up. These kinds of rivalries are rarely shown. Usually the two sides are shown as adversaries, with one having to win. The wonderful thing about Ashirogi's and Nizuma's rivalry is that it never has to end. Both sides can continue to push the other to grow. It's a positive competition that would be nice if more people embraced.
The real conflict in the volume comes from the voice actor side. Azuki is a rising star, but voice actors are like idols, and to fans, to have a boyfriend is sacrilegious. For ten years Moritaka and Azuki have been able to keep their relationship a secret, not just for Azuki's career, but for the promise they made. A slip up by one of Azuki's fellow voice actors and a jealous middle school classmate blows their cover and the rumors start to fly over the internet, and into the press.
The good part of this potentially crippling event is the support Moritaka and Azuki get from the people around them. There are the regulars like their editor, and Azuki has her mother's support, but the best reaction comes from Fukuda, a fellow manga artist that started at the same time as Ashirogi. He is very impassioned, melting down into tears when he hears about Moritaka's and Azuki's relationship, to indignation at the way they are being treated by fans. He doesn't back down even he asked to by his editor.
It's really kind of sad, but both Azuki and Moritaka have to keep reiterating that they have done nothing wrong. They have done nothing to hide their relationship because there has been nothing to hide. They have kept it as pure as humanly possible, but there seems to be this constant assumption that they have done something wrong. Ishizawa, the trio's middle school classmate who failed at becoming a manga artist, is truly a terrible person as he deliberately tries to derail Azuki's career with his rumors posted anonymously online. What's even sadder is that he's not a fictional character. There are too many people online just like him ready to destroy other's lives for no more than petty jealousy.
Bakuman continues to be a fantastic read. After spending the last 18 volumes watching these characters change and grow, it's almost sad to think it's nearly over. As a reader you are rooting for Azuki and Moritaka, and hate any more obstacles that get in their way. The real strength of this volume is that the obstacles are introduced reasonably and who they come from are believable. I'm looking forward to the last volume and seeing how it all works out.