February is the month to celebrate your relationship or singleness, which ever you embrace. Viz Media is sharing in that celebration with lot of new titles and offers from their Vizmanga digital site. What is especially enticing are the Shojo bundles. Three titles of 10 volumes each for $40.00. And they are really good titles too. Honey & Clover, Sand Chronicles and Strobe Edge. All three are amazing titles in their own way. If you haven't read any of them, this is the perfect opportunity to get them all at a great price.
VIZ MEDIA OFFERS A DIGITAL MANGA UPDATE WITH NEW SERIES DEBUTS AND SPECIAL PROMOTION DIGITAL MANGA STARTER BUNDLES
Special Curated Collections Each Compile Volume 1's For Dozens Of Exciting Manga Series; Shojo Beat Valentine's Sale Offers Complete Manga Series Bundles At A Substantial Savings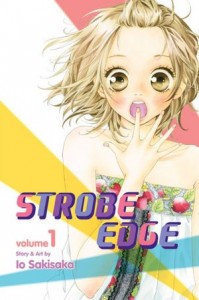 VIZ Media turns up the mid-winter reading fun with a digital update for February. Updates include the launch of several thrilling new manga (graphic novel) series as well as new volume releases of dozens of continuing titles including several noteworthy series finales that are not to be missed.
Readers also are invited to take advantage of a Digital Manga Starter Bundle Promotion that offers an opportunity to dive into the opening volumes from a wide collection of acclaimed manga series. Available for a limited time from February 9th and thru February 28th on VIZManga.com, as well as through the ComiXology platform, the specially curated digital manga bundles each contain multi-title opening volumes sampled from VIZ Media imprints including Shonen Jump, Shonen Sunday, and Shojo Beat. Each bundle includes five volume 1 editions at a substantial savings over the regular digital MSRPs.
Readers can mark Valentine's Day with the Shojo Beat Digital Valentine's Sale that offers unique manga bundles collecting entire runs of several "Slice of Life" romantic titles by some of the shojo genre's most celebrated creators including Chika Umino (HONEY & CLOVER), Io Sakisaka (STROBE EDGE), and Hinako Ashihara (SAND CHRONICLES).
New February Digital Manga Series Debuts:
HONEY BLOOD, Vol. 1 · Rated 'T' for Teens ·
DIGITAL MSRP: $6.99 (U.S. / CAN) · Available Now! 
When a girl at her school is attacked by what seems to be a vampire, high school student Hinata Sorazono refuses to believe that vampires even exist. But then she meets her new neighbor, Junya Tokinaga, the author of an incredibly popular vampire romance novel… Could it be that Junya's actually a vampire—and worse yet, the culprit?!
THE ONE I LOVE (Single Volume) · Rated 'T' for Teens ·
DIGITAL MSRP: $4.99 (U.S. / CAN) · Available Feb. 10th! 
Combining CLAMP's legendary storytelling, color artwork and elegant prose, THE ONE I LOVE provides insight into the creators' intimate lives and passions. This unique and romantic 12-story anthology dives into the heart of the matter of insecurity and honesty, marriage and independence, and, of course, the single subject CLAMP seems to know best – love.
WISH, Vol. 1 · Rated 'T' for Teens ·
DIGITAL MSRP: $4.99 (U.S. / CAN) · Available Feb. 17th! 
In this series from the dynamic manga creative team of CLAMP, one moonlit night Shuichiro saves an angel stuck in a tree. The angel grants him a wish to repay his generosity. Shuichiro replies, "I need no wish, I can get what I want on my own." But they both soon discover that some wishes can't be fulfilled alone.
SOMEDAY'S DREAMERS, Vol. 1 · Rated 'T' for Teens ·
DIGITAL MSRP: $4.99 (U.S. / CAN) · Available Feb. 24th!  
Yume desperately wants to follow in her mother's footsteps and become a magic user in the worst way! She innocently practices using magic to help the people she encounters: struggling soccer players, the wrongly incarcerated, and a student who wants to show his moon-loving teacher a lunar eclipse on a cloudy evening. In this coming of age story filled with genuine imagination and a passionate sense of awe, follow Yume as she learns that the true magic in life can take place right inside her own heart.
VIZ Media's Digital Manga Starter Bundle Promotion runs through February 28th on VIZManga.com as well as ComiXology, the revolutionary cloud-based digital comics platform.
FRESH JUMP Bundle · Promo MSRP $9.99
Bundle includes:
ALL YOU NEED IS KILL, Vol. 1
FOOD WARS!, Vol. 1
NISEKOI, Vol. 1
SERAPH OF THE END, Vol. 1
WORLD TRIGGER, Vol. 1
JUMP CLASSIC Bundle · Promo MSRP $9.99
Bundle includes:
BLEACH, Vol. 1
BLUE EXORCIST, Vol. 1
DEATH NOTE, Vol. 1
NARUTO, Vol. 1
ONE PIECE, Vol. 1
SHONEN SUNDAY Bundle · Promo MSRP $9.99
Bundle includes:
ARATA: THE LEGEND, Vol. 1
CASE CLOSED, Vol. 1
ITSUWARIBITO, Vol. 1
KEKKAISHI, Vol. 1
MAGI, Vol. 1
SHOJO BEAT Bundle · Promo MSRP $9.99
Bundle includes:
LIBRARY WARS, Vol. 1
KIMI NI TODOKE (FROM ME TO YOU), Vol. 1
OURAN HIGH SCHOOL HOST CLUB, Vol. 1
SKIP BEAT!, Vol. 1
VAMPIRE KNIGHT, Vol. 1
VIZ Media's Shojo Beat Digital Valentine's Sale also runs thru February 28th on VIZManga.com
Shojo Bundles · Promo MSRP $40.00 each ($4.00 per volume)
Available "Slice of Life" Shojo Series Bundles:
HONEY & CLOVER, Vols. 1-10; $40.00
SAND CHRONICLES, Vols. 1-10; $40.00
STROBE EDGE, Vols. 1-10; $40.00
Additional digital manga updates for February include new updates to 19 popular continuing series. Included in this update are the not-to-be-missed series finales for a host of popular titles such as, HAPPY MARRIAGE!? (Vol. 10), NURA: RISE OF THE YOKAI CLAN (Vol. 26), MAD LOVE CHASE (Vol. 5), DUKLYON CLAMP SCHOOL DEFENDERS (Vol. 2), and THE THIRD (Vol. 2).
Readers can enjoy all of these new manga titles that are available on VIZManga.com and the VIZ MANGA App for the iPad®, iPhone® and iPod® touch, Android-powered smart phones and 7" tablets. The titles may also be purchased through the Nook, Kindle, Kobo, ComiXology, iBooks and GooglePlay stores. These dynamic digital platforms offer fans the opportunity to explore and enjoy a massive catalog of new and classic manga titles that span nearly 2,400 volumes across over 215 different series.
The free VIZ Manga App continues to be the top application for reading digital manga and features a massive library of the most popular series in the world. Through the innovative VIZ Manga digital platform registered users are able to use one account to view their purchased manga across more devices than ever. New series and volumes are added every Tuesday. Fans can also find these titles and more for the NOOK, Kindle Fire, and Kobo eReaders, as well as in the ComiXology, iBooks and GooglePlay Stores.
Most manga volumes are available for purchase and download in the U.S. and Canada within the VIZ Manga application starting from only $4.99 (U.S. / CAN) each. Readers can also explore free Chapter 1 previews of every series. For more information, please visit VIZManga.com or www.VIZ.com/apps.
To learn more about VIZ Manga, please visit www.vizmanga.com.