Every week, the New York Times and Amazon posts the top ten bestselling books. The New York Times gets their numbers from print sales from retailers, while Amazon calculates their own numbers. Offered here is a listing of these books with their status this week compared with the previous week, and some way-off analysis of the activity. This week will also include the return of Vizmanga.com and the Nielson Bookscan for January.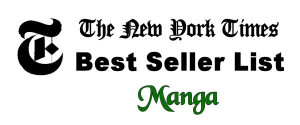 New York Times Bestseller List for the week ending January 31, 2015
Akame ga Kill! Vol 1     ↔
Soul Eater Vol 24     ∗
Black Butler Vol 19     ↓ 1
Fairy Tail Vol 46     ∗
Sword Art Online Progressive Vol 1     ↔
Noragami Vol 3     ∗
Unofficial Hatsune Remix     ↑ 3
Assassination Classroom Vol 1     ↵ 7
Deadman Wonderland Vol 2     ↵ 3
The Seven Deadly Sins Vol 6     ↵ 2
Yen Press does well this week as it holds four of the top five spots, including Akame ga Kill! Vol 1 keeping the top spot for the second week. A lot of titles returned as well, with Viz getting two titles to chart in Assassination Classroom Vol 1 and Deadman Wonderland Vol 2. Kodansha's Seven Deadly Sins Vol 6 returns after taking a week off after its debut. Attack on Titan Vol 1 has been on a bit of a roller coaster ride this year so far. It disappeared from the list at the beginning of January, returned for a couple of weeks before falling off again this week. It's odd to see the list without one.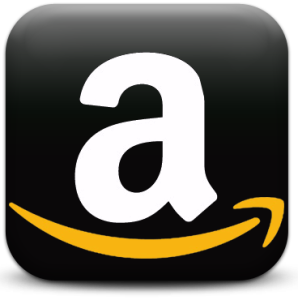 Amazon.com for the week ending February 7, 2015
Legend of Zelda: A Link to the Past     ∗
Attack on Titan Vol 1     ↓ 1
Akame ga Kill! Vol 1     ↓ 1
Legend of Zelda Box Set     ↑ 2
Attack on Titan Vol 2     ↑ 2
Attack on Titan Vol 14     ↓ 1
Death Note Box Set     ∗
Bleach Vol 63     ∗
Black Butler Vol 19     ↑ 1
Attack on Titan Vol 6     ↵
This is pretty amazing. A title that won't be released until May has made it to the top of the list. Legend of Zelda: A Link to the Past is a pre-order that apparently a lot of people want. Attack on Titan Vol 1 and Akame ga Kill! Vol 1 both moved down one to make room for it. It seems that people are preparing early for the new Legend of Zelda, as the box set moves up again this week. Attack on Titan continues to do better online than in stores four volumes keep vigil on Amazon bestsellers compared to NYT's none.
Vizmanga.com for the week of January 27, 2015
Nisekoi! Vol 10
The Third Vol 1
Sgt Frog Vol 2
Kyo Kara Maoh! Vol 5
Mikansei! No. 1 Vol 2
Food Wars Vol 3
Food Wars Vol 4
Jaco: The Galactic Partrolman
Nisekoi! Vol 9
One Piece Vol 73
The Vizmanga top ten returns after two months of nothing, so since all the books are now new, I will treat the list as if it's new. Viz Select titles make a good showing, taking four of the five top spots, but not the #1 spot. That belongs to the newest Nisekoi! volume. The list is almost sandwiched by that series, except that Vol 9 fared just a little better than the newest One Piece volume which sits at #10. Food Wars also gets a double dose charting as volumes 3 and 4 sit next to each other.
Nielson Bookscan Top 20 for January 2015
5.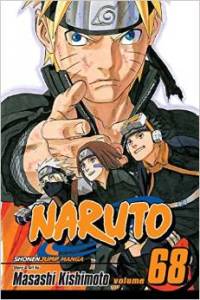 Naruto Vol 68     ↑ 3
8. Attack on Titan Vol 1     ↑ 6
18. All You Need is Kill Omnibus
Manga hasn't fared as well on the Bookscan front, and may continue to not do so as ICv2 has changed the way it reports the numbers from it, adding more non-fiction titles to the mix. Only time will tell. The same two volumes that were there in December continue on in January, even moving up a few spots, and are joined by the All You Need is Kill omnibus.  Maybe next month will show some movement with more titles debuting at the end of January and into February.
Legend:
∗ = New Release
↑ = Title moved up specified # of spots
↓ = Title moved down specified # of spots
↔ = Title didn't moved from previous week
↵ = Title returned after dropping off list with total # of weeks