There has been plenty of new titles announced for Viz's Shonen Jump line, especially with the new Jump Start for Weekly Shonen Jump, but this week Viz Media let Shojo Beat shine with the announcement of two new titles to join the drama-based line.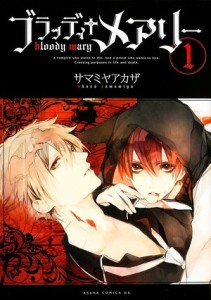 The first title announced was Bloody Mary. This supernatural series is about 400-year-old vampire "Bloody" Mary who has tired of life and just wants to die. He has been searching for one who would inherit the "Blood of Maria", that would give them the power to kill him. He finally finds an exorcist  who has inherited the power, but he doesn't know how to use it. But because he possess the power, he becomes the target of lots of other vampires. Mary makes a deal with Maria. He will be his body-guard until Maria can figure out how to use his power and end Mary's life. The series is only four volumes so far, and will be published quarterly starting in December 2015. This title has two potential strikes against it. One, it's about vampires. I really am done with the whole vampire thing. Two, the series is a shounen ai/BL series. It's only four volumes in, and so far the story has pushed the shounen ai and not stumbled into full BL territory. So far. I'm more tolerate of shounen ai that of BL. I don't mind the flirting and the tension, so as long it keeps on that track I might like it.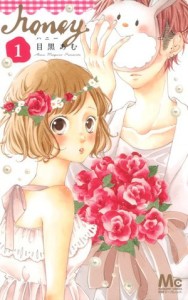 Honey So Sweet was the second series and is the kind of teen romance one would expect from Shojo Beat. It is about Nao Kogure, who in Middle School left an umbrella and bandages for injured delinquent Taiga Onise. They meet again in High School, and while Nao doesn't want anything to do with violent Taiga, he surprises her with a bouquet of flowers and request that she date him. It's a bad-boy-with-a-heart-of-gold series, but that's not so bad.  It's a romantic comedy about love and friendship with an ensemble high school cast. The art looks cute too. Viz has done well with this genre with titles such as Kimi ni Todoke and Strobe Edge, so the chances of this one being just as entertaining is very good. There are six volumes available and this series will also be published quarterly starting in January 2016. I'm more inclined to try out this series as I'm more attracted to the gentle romances than vampire dramas.
Both of these titles will be available in both print and digital as same day releases.