Erwin's political enemies have hired Levi and his crew to take back some incriminating documents. Their reward: the right to live a proud life above ground, in the royal capital. But deep in titan territory, it's going to be tough to break formation and steal from a squad leader, and Levi still insists on killing the man who humiliated him after the mission is complete. Of course, beyond the walls anything can happen, and a sudden change in Levi's fortunes will force him to face the greatest regret in his life…
Attack On Titan: No Regrets Volume 2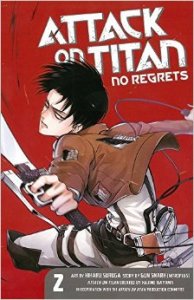 Written by Gun Snark (Nitroplus); Art by Hikaru Suruga
Publisher: Kodansha Comics
Age Rating: Older Teen
Genre: Horror/Drama
Price: $10.99
Rating:





I really enjoyed the first volume of Attack On Titan: No Regrets, and was really looking forward to this one, and again it didn't disappoint. The series takes a darker turn from the lighter first volume, but keeps all the drama and excitement to deliver an ending you won't regret.
After their first encounter with a titan, Levi, Isabel and Furlan all start to change a little. Isabel is drawn into the Corps more, sympathizing with their cause. Furlan goes in the opposite direction, wanting to push his plan forward and get out of the Corps and into the life of luxury they've been promised. Levi, as usual, remains a mystery, his true feelings being veiled by his desire to protect his friends. I do like that about Levi. Part of his appeal is his silent, stoic demeanor. Hearing his thoughts would ruin some of his mystery. We meet Hange Zoe in this volume, as he barges in on the trio to ask Levi about his tactics in taking down the titan. I love his expression before and how he deals with Isabel constantly interrupting him. It was a smile-inducing moment.
With a subtitle of No Regrets, it should come as no surprise that regret is a major theme throughout the volume. Erwin speaks of the sacrifices members of the Survey Corps make to further their cause and do so without regret. Levi must struggle with regret as well after he makes his own fateful decision. It leads to a fantastic confrontation between Levi and Erwin. Erwin's speech says so much about what he believes and shows how he is able to get people to follow him even to face the hell that the Titans represent.
Suruga does a wonderful job with the art again. His action sequences continue to be thrilling as Levi shows once again why he is called "humanity's greatest soldier." The few moments of emotion that Levi shows for Isabel and Furlan are all the more moving because he shows his feelings so rarely. Levi and Erwin's expressions are superb in their confrontation, which leads into a beautifully symbolic awakening for Levi.
Attack On Titan: No Regrets is a great piece of storytelling with some very compelling characters. Even though you don't get to spend a lot of time with them, you care about what happens to them. I was happy at the end that we got some side stories about Levi, Isabel and Furlan set before they joined the Survey Corps. I would gladly welcome more like them. If you have even a passing interest in Attack On Titan, pick this series up. You won't regret it.