Viz announces lots of new debuts in digital including digital editions of print titles as well as new additions to the Viz Select line, all former Tokyopop titles. They are offering more bundles, mostly starter sets this time featuring classic manga, Signature titles, and mature manga. All have good titles and at $20, they're a good deal if you looking to sample.
VIZ MEDIA WELCOMES SPRING WITH A NEW DIGITAL MANGA UPDATE AND CONTINUES PROMOTION FOR DIGITAL MANGA STARTER BUNDLES
Kick Start Your Digital Manga Collection With New Special Bundles Featuring Volume 1's For Acclaimed Popular Series; Also Catch The Digital Launch Of 6 New Manga Series And Updates To 18 Other Continuing Titles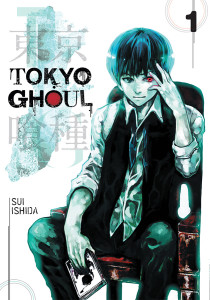 VIZ Media invites manga fans and readers to shake off the winter doldrums with a new digital update for March. March updates include the launch of six brand new manga series, as well as new volume releases for scores of other continuing titles.
During March, VIZ Media also continues its Digital Manga Starter Bundle Promotion that offers the opening volumes from a wide collection of acclaimed manga series. The latest selection of manga bundles are available for a limited time from March 2nd thru March 31st on VIZManga.com, as well as through the comiXology platform. The specially curated digital manga bundles each contain multi-title opening volumes sampled from popular VIZ Media imprints including Shonen Jump and the VIZ Signature line. Each bundle features five Volume 1 editions at a substantial savings over the regular digital MSRPs.
This month, readers can look forward to the digital launch of six new manga series including the supernatural horror saga, TOKYO GHOUL, the paranormal shojo drama, SPELL OF DESIRE, and four additional titles debuting digitally under the VIZ Select imprint: CALLING YOU (single volume), GIRLS BRAVO, RATMAN, and SOMEDAY'S DREAMERS: SPELLBOUND.
A special new selection of manga series bundles also offers readers the opportunity to enjoy unique multi-volume collections of several acclaimed VIZ Media titles including BIOMEGA, CROSS MANAGE, NANA and PSYREN at a substantial savings over regular digital MSRPs.
New March Digital Manga Series Debuts:
SPELL OF DESIRE, Vol. 1 · Rated 'M' for Mature Readers ·
DIGITAL MSRP: $6.99 (U.S. / CAN) · Available March 3rd!  
In this paranormal drama by Tomu Ohmi (creator of MIDNIGHT SECRETARY), Kaoruko Mochizuki runs an herb shop in a small seaside town. One day, a mysterious man dressed in black named Kaname Hibiki enters her shop and reveals that Kaoruko is actually a witch. And what's more, Kaoruko needs Kaname to help control her awakening power!
CALLING YOU (Single Volume) · Rated 'T' for Teens ·
DIGITAL MSRP: $4.99 (U.S. / CAN) · Available March 10th!  
In these preternatural tales, a girl creates a cell phone in her imagination, with which she can communicate with others…A young boy discovers his new friend has the power to heal others-and learns about true friendship and sacrifice…And the restorative power of love confronts the tragedy and horror of a deadly train accident.
TOKYO GHOUL, Vol. 1 · Rated 'T+' for Older Teens · Digital First!
DIGITAL MSRP: $8.99 (U.S. / CAN) · Available March 17th!  
Ghouls live among us, the same as normal people in every way – except their craving for human flesh. Ken Kaneki is an ordinary college student until a violent encounter turns him into the first half-human half-ghoul hybrid. Trapped between two worlds, he must survive Ghoul turf wars, learn more about Ghoul society and master his new powers.
GIRLS BRAVO, Vol. 1 · Rated 'T+' for Older Teens ·
DIGITAL MSRP: $4.99 (U.S. / CAN) · Available March 17th!  
Meet Yukinari Sasaki, an average high school boy who has extreme girl-phobia – and an allergic reaction when girls touch him. One day, he befriends an alien named Miharu, who comes from a planet that houses only women. Remarkably, Yukinari is able to touch Miharu without breaking into a sweat. Accompanied by Miharu, he returns to his own world: but shortly thereafter, other girls follow them…and his life turns into one big mess!
RATMAN, Vol. 1 · Rated 'T+' for Older Teens ·
DIGITAL MSRP: $4.99 (U.S. / CAN) · Available March 24th!  
Shuto Katsuragi is a superhero otaku. Only problem is, he's too short and always getting teased for his height…especially when he tries to emulate his favorite superhero! To make matters worse, Shuto suddenly gets abducted and tricked into participating in some rather sketchy and super-villainous experiments! What's a shrimp to do when his dreams come true in ways he never expected?
SOMEDAY'S DREAMERS: SPELLBOUND, (2-Volume Series) ·
Rated 'T' for Teens · DIGITAL MSRP: $4.99 each (U.S. / CAN) ·
Vol. 1 Available March 24th; Vol. 2 available March 31st!
Eighteen-year-old Nami is a magic user with a keen interest in helping everyone…but herself. Ryutaro is the new boy in school–he's rough around the edges and has a mysterious past, but beneath his rugged exterior is a gentle soul. When these two meet, they leave each other spellbound! It's new love in the world of Someday's Dreamers!
VIZ Media's Digital Manga Starter Bundle Promotion continues through March 31st on VIZManga.com as well as comiXology.
Classic JUMP Bundle II · Promo MSRP $9.99
Bundle includes:
SLUMP, Vol. 1
DRAGON BALL, Vol. 1
KNIGHTS OF THE ZODIAC, Vol. 1
ROSARIO + VAMPIRE, Vol. 1
YU-GI-OH!, Vol. 1
VIZ Media Mature Starter Bundle · Promo MSRP $20.00 (*Only available via VIZManga.com)
BIOMEGA, Vol. 1
BLACK LAGOON, Vol. 1
DOGS, Vol. 1
IKIGAMI, Vol. 1
NANA, Vol. 1
VIZ Signature Starter Bundle · Promo MSRP $20.00
BOKURANO: OURS, Vol. 1
CHILDREN OF THE SEA, Vol. 1
I'LL GIVE IT MY ALL TOMORROW, Vol. 1
OISHINBO, Vol. 1
SATURN APARTMENTS, Vol. 1
VIZ Media March Manga Series Bundles
BIOMEGA, Vols. 1-6; $12.00
CROSS MANAGE, Vols. 1-5; $10.00
NANA, Vols. 1-10; $20.00
Claymore, Vols. 1-10; $20.00
Additional digital manga content for March includes updates to 18 other continuing series. Included in this month's update are exciting new volumes for popular continuing titles such as FOOD WARS! (Vol. 5), NARUTO (Vol. 69), ONE-PUNCH MAN (Vol. 6), SGT. FROG (Vol. 6), TERRA FORMARS (Vol. 5) and many more!
Readers can enjoy all of these new manga titles that are available on VIZManga.com and the VIZ MANGA App for the iPad®, iPhone® and iPod® touch, Android-powered smart phones and 7" tablets. The titles may also be purchased through the Nook, Kindle, Kobo, comiXology, iBooks and GooglePlay stores. These dynamic digital platforms offer fans the opportunity to explore and enjoy a massive catalog of new and classic manga titles that spans over 2,500 volumes across more than 220 different series.
The free VIZ Manga App continues to be the top application for reading digital manga and features a massive library of the most popular series in the world. Through the innovative VIZ Manga digital platform registered users are able to use one account to view their purchased manga across more devices than ever. New series and volumes are added every Tuesday. Fans can also find these titles and more for the NOOK, Kindle Fire, and Kobo eReaders, as well as in the comiXology, iBooks and GooglePlay Stores.
Most manga volumes are available for purchase and download in the U.S. and Canada within the VIZ Manga application starting from only $4.99 (U.S. / CAN) each. Readers can also explore free Chapter 1 previews of every series. For more information, please visit VIZManga.com or www.VIZ.com/apps.
To learn more about VIZ Manga, please visit www.vizmanga.com.