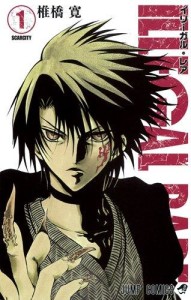 Back in September it was announced that Hiroshi Shiibashi's latest original manga, Illegal Rare was ending, and the final two volumes were to be released in October and November. Shiibashi is the creator of Nura: Rise of the Yokai Clan, a series about Yakuza yokai and ran for 25 volumes.
Illegal Rare is another ensemble series about the supernatural. Humans and supernatural creatures live together in the same world, but these "Rares" are being hunted to extinction. To protect them, the Illegal Rare Counter-Protection Unit was formed. It is championed by Fukumen, a police officer that wears a mask. He goes to Axl, a member of the very rare and highly hunted Black Vampyr clan, to help him. In the first chapter, he rescues a mermaid, Mirror and she joins the unit as well.
Illegal Rare is similar to Nura. It has a big cast, and features supernatural monsters. The monsters have branched out beyond the traditional Japanese monsters, yokai, and now include western monsters such as vampires, mermaids, and werewolves. The lead is a good-looking monster, and the main female is timid by loyal to the lead. Maybe it was too similar to Nura, and that's why it didn't succeed. I liked Nura, especially as it got into the later volumes. It's too bad this series didn't get the same chance. With Nura's final volume coming out in February, maybe Viz will pick up this series as well. I hope so. I'd really like to read it, even only digitally.