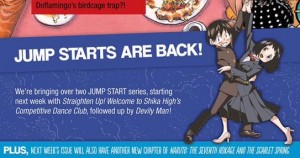 With titles leaving Weekly Shonen Jump, it's time for a new round of Jump Start! titles to run and see if they can make the cut here and as well as in Japan. Viz is starting out with just two titles so far. Welcome to Shika High Competitive Dance Club will start on May 11, while the second series, Devily Man will start two Mondays after, May 25. These titles are being simulpubed with the Japanese Weekly Shonen Jump, so there is precious little information about them.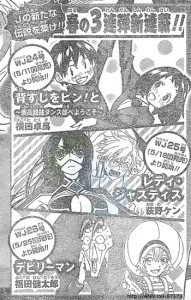 Welcome to Shika High's Competitive Dance Club is obviously about competitive dancing. This seems like a surprising subject to put into a shonen magazine. It seems more like a shojo title like Kodansha's Let's Dance a Waltz. But knowing what I do know about the serialization meetings at WSJ (thanks to Bakuman), this series must have something interesting about it to make it into the magazine. I'm curious to hear what it's about. Devily Man has an old school/retro feel to it, based only on the glimpse of the art from Weekly Shonen Jump. Like a Toriyama and/or comedic feel to it. I can't even begin to guess that this title is about, but the alien/demon looking guy looks rather happy, hence the comedic vibe.
I've got my hopes up that Welcome to Shika High's Competitive Dance Club with be something good and clever. Dance manga can certainly use a boost. I'll have to wait and see on Devily Man. The field of possibilities are just too wide for it. The issues will be available for $.99 if you don't have a subscription but still want to read them.