With Con Season is full swing, the license announcement are coming at a fairly steady rate. Whether in between cons, or publishers not planning on panels, the word of new licenses and rescues still make the steady rounds of news sites, and especially social media like Twitter and Tumblr.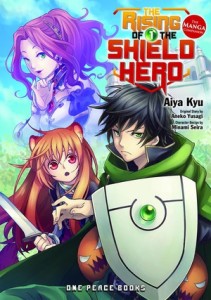 One Peace Books is a boutique publisher that has been dabbling in manga with such titles as Whispered Words, Aquarion Evol, and Crayon Shin Chan. This time, the publisher picked up a light novel series and its manga companion. The Rising of the Shield Hero is a light novel series that is currently at 10 volumes and ongoing. It is about Naofumi Iwatani, an otaku who is whisked away to a parallel dimension where he discovers is he one of four heroes equipped with a legendary weapon and tasked with saving the world from its prophesied destruction. Naofumi starts out as the Shield Hero, the weakest of the four, and soon finds himself alone, penniless and betrayed. He must now start his journey to become the legendary Shield Hero the world needs. The first volume will be out September 15 with the second being released October 20. The first volume of the manga, which is at 3 volumes and ongoing, will be out in November. This plot is very standard for fantasy novels, so unless it does something really interesting, I will probably skip it. I would be more inclined to check out the manga first, since I wouldn't be as much as a time suck for me.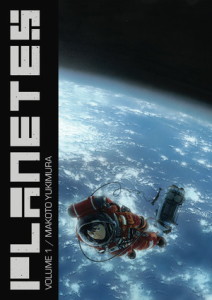 Dark Horse isn't know for making license rescues, until it's a CLAMP title. So their announcement that they picked up Planetes came as a bit of a surprise. Planetes was originally published by Tokyopop back in 2004, and even back that it was a difficult title to collect. It's by Makoto Yukimura who is also the mangaka of Vinland Saga, which Kodansha is currently publishing in 2-in-1 deluxe hardback editions. Dark Horse will publish Planetes as 2 omnibus editions complete with bonus color pages. The story centers around Hachimaki, a member of a space-garbage crew, who collects everything from satellites to screws, anything that could damage a spacecraft when traveling at high speeds. Hachimaki dreams of owning his own spaceship, and decides there's better money in joining the first manned mission to Jupiter. It's been a long time since I last read Planetes, but it was a fun short series and very good sci-fi. The first omnibus will be out in December, just in time to put under the Christmas tree.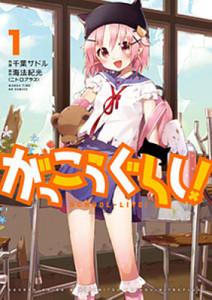 Yen Press just popped up with two new licenses on their Twitter feed, both of which fit right into the publisher's catalog. School-Live! is a horror/slice of life series. It follows four girls, Yuki Takeya, Kurumi Ebisuzawa, Yuri "Riisan" Wakasa, and Miki "Miikun" Naoki, who camp out at their school and end up the only survives of a zombie attack. They decide to stay at the school and make it their home. Yen has really embraced the zombie/school survival titles, starting back with Highschool of the Dead. This series appears to feature cute little girls, but the premise may have a darker edge to it. There are currently five volumes and the series is ongoing. It might be interesting to check out the first volume, which will be released in November.
The second series is Of the Red, the Light and the Ayakashi. It's based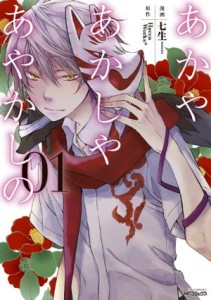 on a doujin game released in Japan back in 2011. The manga adaptation started in 2012. It is about Yue, a boy born and raised in a certain shrine on the outskirts of Utsuwa City. His close childhood friend, Kurogitsune takes him to the winter festival, where he experiences the outside world for the first time, and meets a mysterious boy. Seven volumes have been released so far. Yen Press also loves their visual novel stories, from Higurashi and Umineko. This series is a must read. I had it on my wish list at Baka-Updates Manga for who knows how long, but I enjoy titles with spiriting away themes and supernatural mysteries. This first volume will debut in December.