Yul continues his machinations against Shin, determined to get both Chae-Kyung and the title Crown Prince. His mother only cares about him becoming prince, and even sets him up in an engagement with the daughter of a powerful business man who is possibly more horrible that her. Shin and Chae-Kyung's relationship continues down a rocky road as they alternate between loving and alienating each other, and causing the royal family public humiliation. Add to that the King who won't show his feeling for his own son and royal baby on the way that could just complicate things further, and  you have just another day at the Royal Palace.
Goong: The Royal Palace Volume 9-10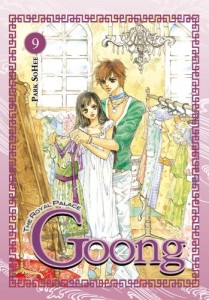 By SoHee Park
Publisher: Yen Press
Age Rating: Teen
Genre: Romance
Price: $18.99
Rating:





The drama continues to crank up, as if that's possible, in these two volumes. The soapiness just froths over like a wrongly loaded washing machine from a sitcom. The power plays and political intrigues start coming to the forefront, while Shin and Chae-Kyung's relationship hit more bumps than smooth patches. While I still find Goong a compelling read, it isn't as satisfying as it once was.
The main problem I have had with these two volumes is that everyone has become unlikable. Chae-Kyung spends all of her time whining about not wanting to be in the Palace while still pining for Shin. She is so completely selfish that she falls for Yul's manipulations and betrays Shin even after he tells her it's what he fears most. This isn't how you're suppose to treat someone you claim to like. Shin isn't blameless in any of this though. His big mouth and bigger pride keeps him from actually showing Chae-Kyung his true feelings, which leads in part to her betrayal. So much of their problems come from their inability and/or unwillingness to talk to each other. It's become more frustrating than entertaining at this point.
I really disliked Yul for using Chae-Kyung against Shin, despite his claims to love her. You don't win someone's love by hurting the person they love, even if it the hot-and-cold relationship Shin and Chae-Kyung have. And then he has the gal to think Shin manipulated Chae-Kyung for not telling her about her grandfather, after all he's done to try to sabotage her and Shin's relationship? As much as I hated Mi-Roo Oh, Yul's chosen fiance, she is exactly who Yul and the Daebi-mama deserve for their manipulations. The King isn't much better, with the way he keeps favoring Yul over Shin for so many personal reasons and none of them good. Whether it's because of his feeling for the Daebi-mama, the promise he made to his older brother or some of reason we haven't heard yet, none of them are excuses for ignoring the good of the country, which putting Yul and Daebi-mama in charge may jeopardize. Hyo-Rin proves she's on the same level as Daebi-mama, as she manipulates Shin by first exposing the truth of Shin and Chae-Kyung's engagement, then pleading with Shin to divorce Chae-Kyung for her own good. Despite her situation, she isn't someone I feel sympathy for.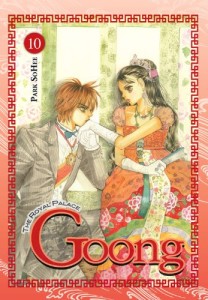 The only people who I still have any respect for are the Queen and the Queen-Mother. They are the only two without any secret agendas, who actually care about others and aren't afraid to admit their feelings. The Queen has to plead with the King to allow Shin and Chae-Kyung to move to Changduck palace not as the Queen but as Shin's mother. They are the only two who think to investigate the Daebi-mama as a possible suspect in her own arson. Honestly, I think they are the two smartest in the series and the Queen should be leading instead. She dealing with a difficult pregnancy and is still the most rational person in court at the moment.
I'd really like to see more political intrigue than relationship drama. Shin's position as Crown Prince has been iffy at best for most of the series, but as soon as decides to take his duties seriously, is when the King seems to really turn against him. Most of the time the problems come from Chae-Kyung. The mention of divorce on National TV and the revelation of their engagement pushes the King to seriously consider demoting Shin. Yul and his mother want to push for a stronger monarchy which doesn't make them very popular with many in the National Assembly, giving Shin more support. It is going to be tough to get any support for Yul to become Crown Prince. I hope this will be explored more in future volumes.
While these two volumes of Goong didn't leave a favorable impression on me over all, I did still enjoy reading them. Soaps are supposed to have characters you love to hate, but I don't think you're suppose to hate everyone. Hopefully future volumes will change this and give me someone to sympathize with and root for. I still love all the costumes and the detail Park puts into them. I also really like the different fashions Chae-Kyung gets when she's in everyday clothes. Even though I've grown weary of the miscommunication and manipulation in the personal relationships. I will keep reading. It's like the train wreck you can't look away from.
Review copies provided by publisher.