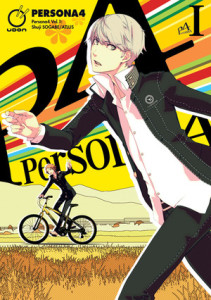 Persona is a video game franchise that has built quite a following here in the west. It has also received quite a few manga adaptations, most notably for Persona 3 and Persona 4. Kodansha recently licensed the manga adaptation of the 3DS game adaptations Persona Q: Shadow of the Labyrinth P3/4 which crosses over the two incarnations. But there are also adaptations of the original games. This is what Udon Entertainment announced picking up.
Persona 4 follows a group of high school students in the rural town of Inaba who start out forming a group to investigate a series of grisly murders. As they work to uncover the truth and stop any more murders from happening, they discover they might be connected to an urban legend of about a paranormal television phenomenon called the "Midnight Channel." Their simple investigation turns dangerous, as they go on an action-packed journey of self discovery that crosses two worlds, and dark truths will shake our heroes to the very core, while helping them discover an inner strength they never had.
My daughter was really into Persona for a while, and told me most of the video game's plot. If the manga is a faithful adaptation, then the series will be filled with plenty of suspense, horror, comedy and drama. I'm really curious to check this out, after hearing so much about it. I'll never play the game, so this is the next best thing.
There are currently 10 volumes of Persona 4 out in Japan. Udon Entertainment will begin their releases in September, and the series will come out bimonthly. Maybe if this series does well, we will see the manga adaptation of Persona 3, done by the same artist, Shuji Sogabe, which was teased as ending with volume 9 back in March.