Anime Expo occurred over the Fourth of July weekend at the Los Angeles Convention Center, and there were certainly a lot of fireworks as publisher exploded with new license announcements. Over the four-day holiday weekend, Viz, Vertical, Crunchyroll, Kodansha Comics and Yen Press all announced titles, some of which nearly had fans swooning from shock and excitement.
Yen Press started out the last day of the con with an overload of licenses and announcements. They just piled on the titles, some digital only, some digital going print, some light novels, and plenty of manga.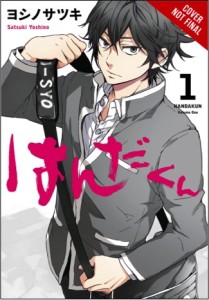 Starting with print, a title that had been previously announced as a digital only at Sakura Con has moved up to print before even coming out. Handa-kun is the prequel series to Barakamon, which as been doing really well in Japan, reportedly better than the main series. I really liked Barakamon. I binge-read the first four volumes, so this series has moved up from a wait and see to a want. It was also announced to be a simul-pub which Yen Press will begin in October with several other Square-Enix titles.
My Youth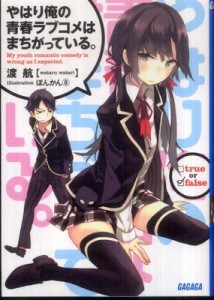 Romantic Comedy is Wrong As I Expected started as a light novel series. It follows antisocial high school student Hachiman Hikigaya who has a distorted view of life. He has no friends or girlfriend and has a very pessimistic view on his classmates and his future. In order to change his twisted outlook, he his forced by one of his teachers to join the volunteer service club, which also has Yukino Yukinoshita, the school's prettiest girl as the sole member. There are 11 volumes of the light novel series and four of the manga series, both of which Yen Press has licensed and scheduled for release in 2016. Despite the long and awkwardly worded title, this series sounds interesting as it looks at the psychological motives behind teen interactions in high school.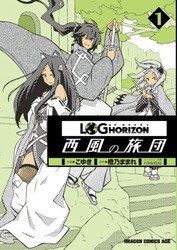 Log Horizon: The West Wind Brigade is a side story to Log Horizon and follows Sojiro and the members of the West Wind Brigade. Yen Press already has the main manga and light novel series of the users of the online game Elder Tale being trapped in the game and having to fight to survive. There are 5 volumes so far, but no release date was announced. Fans of Log Horizon or this genre will enjoy the side story. I will pass.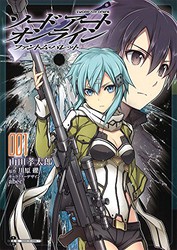 These next two titles are no brainers. Sword Art Online: Phantom Bullet and Mother's Rosario continue the 3rd and 4th story arcs of the light novel series Sword Art Online. Yen Press has already licensed and released several other manga adaptation and side stories, so these next to arcs should come as no surprise. Phantom Bullet is at one volume so far which will be released in September 2015 and Mother's Rosario is at two with the first to be released in December 2015. I wasn't impressed with SAO, so I don't think these two titles will do anything to change that.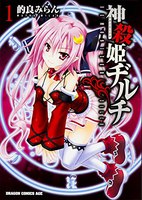 Demonizer Zilch is a supernatural series that follows Io Haruomi. He is haunted by his past where his sister and friend died and he was powerless to help them. Despite his guilt, he tries to live a normal life as an average high school student, until he meets a girl with glowing red eyes known as an Eda. She has escaped from the "Seven Great Gospel Organizations" and shows Io that he is an Eda too, throwing him into the midst of the battle between humans and the devil. There is only one volume so far, and Yen did not announce a release date. I'm getting a "meh" feeling from this one.
Taboo Tattoo is an action title about Justice Akazuka, aka Seigi, a young man who is good at martial arts. He rescues an old homeless man from some thugs and is given an object by him that imprints a tattoo on his palm. The tattoo imbues Seigi with supernatural powers such as warping space-time. He is then pursued by Ijii, a female American agent sent to retrieve the tattoos, which are actually secret weapons in an arms race. Seigi offers to help Ijii, and becomes entangled in a cross-nation conspiracy. This title sounds interesting, but has a lot of male-gaze potential as well. I hope the former will be greater than the latter. I'd give this one a read. I love conspiracy stories.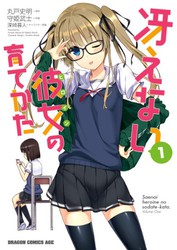 How to Raise a Boring Girlfriend is a manga adaptation of a light novel series that surprising Yen did not license as well. It is about otaku Tomoya Aki who meets a beautiful girl over summer vacation. He models her after the heroine for his own doujin game he is working on for Comiket with two of his fellow students helping with the art and writing. She turns out to be his classmate that no one seems to notice. There are five volumes so far. I'm not seeing the point of this series. Tomoya has no talent for writing or art, and yet he wants to create this game? Is he the coder then? This is too much of a head scratcher for me to get behind.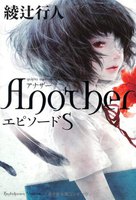 Along with My Youth Romantic Comedy, Yen Press licensed two more light novels. Another: Episode S is a spin-off of the horror novel Another, of which both the manga and novel was released by Yen. Episode S features the story of Mei and her cousin Fujioka Misaki before the start of the novel. It will be a hardcover like the first novel and will be bundled with manga Another 0, which is a prequel that tell the story of Kouichi's mother's time in Class 3. I loved Another and am totally looking forward to this, especially with the manga bundle. No release date was announced unfortunately.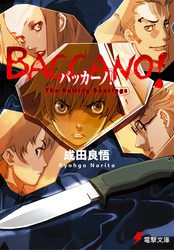 The final OMG of the con was Yen Press' license of Baccano!, a light novel series by Narita, the creator of Durarara!! The story takes place in America, 1930. Each story in the series involves unrelated plots that intersect, causing events to spiral further out of control. Rooted in a desire for immortality by some alchemists 300 years about, they have scattered around the world, and the incident on the soon-to-be-retired train Pussyfoot starts the chain reaction of atrocities. This series had an anime back in 2007 which propelled it to the top of many fan's wish lists. The series is currently at 21 volume and is still ongoing. No release date was announced.
Yen Press then announced eight digital only titles. Aphorism is a school survival story where the students of Nara Shika High School must fight to survive everyday. There are currently 13 volumes. It's first volume will be out in November. Pass. I am so done with all the high school survivor titles. Sekirei is a male-gaze battle series that follows Minato Sahashi, a total loser until he discovers he is an Ashikabi, one who can master the 108 human-like creatures, who all turn out to be girls. It is 18 volumes and will also be out in November. Another pass, not doing a title where the girls are constantly getting their clothes ripped off.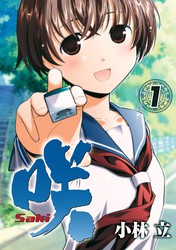 Saki is a game manga about Saki Miyanaga, a high school student who hates mahjong, but due to circumstances has learned to play a zero sum game. She gets dragged to her school's mahjong club by an old friend. There are currently 14 volumes and the first volume will be out in November. I love gaming manga, and this is a series I've been interested in for a while. I will definitely be checking the first volume at least. Corpse Princess is about Makina Hoshimura an undead girl who must hunt down 108 corpses in order to go to heaven. It is complete at 23 volumes, and the first will be out in November. It's about zombie killing, so I'll give this a pass.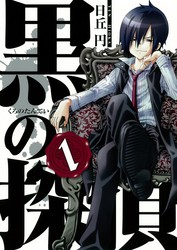 Crimson Prince is a romantic comedy about Kojiro Sakura, a demon prince who has come to Earth to start taking souls. Due to circumstances, he ends up meeting Hana Koumeda, starts living with her, and maybe having a change of heart. There are 16 volumes, but it has gone on hiatus indefinitely due to the artists' health. The first volume is slated for November. This series looks sweet so I would give it a shot. I love detective stories, so Black Detective is another title that needs to go on my must have list. It is about naive Arata Toiro who is tricked into become the assistant to Yu Kuroba, aka The Black Detective, who likes to use his deductive powers to destroy his targets physically and mentally. There are six volumes so far, and the first volume will be available in December.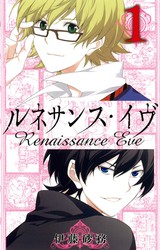 Aoharu x Machine Gun follows high school student Hotaru Tachibana, a girl disguised as a boy who gets drawn into the world of survival games by host Matsuoka and his childhood friend ero-manga artist Tohru Yukimura. There are seven volumes available, and the first will be released in December. Again, survival games, not interested. Renaissance Eve is a supernatural title about people who have strange blood that bestows special abilities. The story follows Chiaki Kaminaga who has blood type "C" for clairvoyance, and his friend Kaguya Daidoji who has blood type "D" for death. This is a short 4 volume series and the first volume will be out in December. This series looks interesting so it's another I'd be willing to check out.
The final announcements from Yen Press was several titles would be starting simultaneous release with Japan starting in October. The titles include Black Butler, Today's Kerberos, The Royal Tutor, and three new titles: Kake Gurui, a psychological drama that is currently at 3 volumes. My Monster Girl's Too Cool for You is a comedy about a boy attending a human-yokai co-ed school who gets dumped by a Yuki Ono. There is only one volume out so far. Demon King Ena-sama Goes to Manga School is another comedy with two volumes out so far. I can't find anything else about it.
None of these simultaneous releases really stand out which really makes me wonder why Yen Press is doing it, especially for the titles that are 2-3 volumes in and haven't been released yet. And how are the releases going to work? I hope they aren't going to continue their $2.99 a chapter like Secret was. It not worth it to buy chapters at $3 when the collected volume will be $10 in print or less in digital. But Yen Press has said so little about their digital initiative other than pile on the titles, it's really hard to say where it will all go.