It's been kind of shocking seeing how many manga are ending this summer. It seems every other day has been a new item about a title either ending or entering its final arc.
Starting last month in June, one of the Saint Seiya titles that we don't have here, which is a crime really, Saint Seiya: The Lost Canvas Gaiden, is entering its final arc, "Old Twins Arc," in August. Lost Canvas Gaiden is a series of short stories written by the creator of Saint Seiya, Masami Kurumada, and take place before The Lost Canvas, itself a series that takes place 200 years before the original series. It has 13 volumes so far, so its had a good run.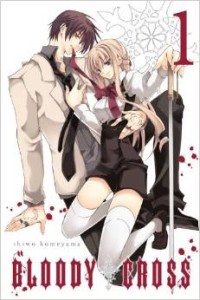 A series I wasn't so thrilled with, Bloody Cross, saw its end this month, in the August issue of Square Enix's Monthly Shonen Gangan magazine. It is about Tsukimiya and Hinata, two angel-vampire half breeds who are pulled into the struggle between an angel and a fallen angel to gain control of "God's Book of Prophecy" which will decide who will be the next God. It was licensed by Yen Press, that has released 6 volumes so far. I read the first five volumes of this series and really didn't care for it, so I'm not gonna miss it. It looks like it will end at 12 volumes.
Also ending this week is Sunny by Taiyo Matsumoto. It's a slice of life series about a group of kids at the Star Kids Home orphanage. The title comes from the old abandoned yellow car out behind the house that the kids often play in. The series was critically acclaimed, being nominated for best comic at the Angouleme International Comics Festival this year, a Harvey  last year and making it on the YALSA Great Graphic Novel for Teens list last year also. It won the Best Graphic Novel prize from Slate Book Review and Vermont's Center for Cartoon Studies. It should be 6 volumes complete. Viz Media has released 4 volumes to date.
Bisco Hatori, the creator of the very popular series Ouran High School Host Club has ended another of her titles this month. Petite Peche released its last chapter in Hakusensha's Ane LaLa magazine at the beginning of July. It's a gourmet comedy that follows Yoriko, a rookie teen editor who stumbles on a cafe in the middle of the night and is welcomed by its handsome owner. As if reading her mind, he offers her the cafe's wonderous menu. Considering we've gotten more Hatori titles lately, I wouldn't be surprised if this became it winter or early spring announcement, especially since it's just one volume.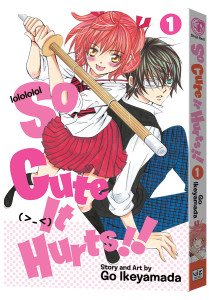 So Cute It Hurts! is a title that just began being released here in the West by Viz Media. It is ending in the August issue of Shogakukan's Sho-Comi magazine. The series follows twin siblings Mitsuru and Megumu who switch places to attend each other's schools so Megumu can help her brother pass history. But Megumu is in for a surprise when she learns her brother has been going to a school for delinquents and is saved on the first day by a mysterious boy with an eye patch. The series will end with 11 volumes.
Akame ga Kill Zero is the prequel to Akame ga Kill, published by in the West by Yen Press. Square Enix's Monthly Big Gangan announced in its June issue that the title is "approaching its climax." The series follows title character Akame, a girl who was bought, brainwashed and trained by the Empire to be an assassin. There are three volumes available so far. Akame ga Kill seems to be doing pretty well for Yen Press. Both volumes released so far have made it on the NYT Bestselling manga list, so I wouldn't be surprised to see this series in one of Yen Press' announcements in the near future.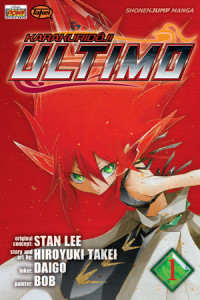 The manga collaboration between Hiroyuki Takei of Shaman King fame, and Stan Lee, the famous US comic creator, Ultimo, will end in October in Shuiesha's Jump SQ. Crown quarterly magazine. The series follows hard-on-his-luck Yamato, who stumbles onto Ultimo, a peculiar-looking puppet who drags Yamato in the battle with his arch nemesis Vice to see who is more powerful, good or evil. Viz Media is releasing Ultimo, which started out in Shonen Jump magazine. I read the chapters in there, but was never impressed with the story. The Stan Lee cameo, which seems to be standard in all his contracted work, was fun. There are 11 volumes available, and Viz has released 10.
Kodansha has ended publication of Monthly Fairy Tail magazine which ran two Fairy Tail manga spin-offs. Fairy Tail Zero was drawn by creator Hiro Mashima and follows the adventures of the founders of the Fairy Tail Guild. Tale of Fairy Tail: Ice Trail tells the story of Grey before he joined Fairy Tail. Both manga ended with the magazine. I would expect to see these as announcements from Kodansha soon. Fairy Tail is a strong seller and we've already seen the shojo spin-offs get licensed. I'm sure these will too.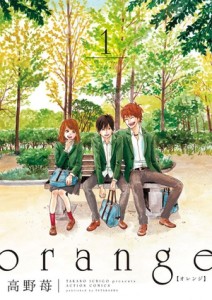 Orange is shojo with a sci-fi premise will end in August in the October issue of Futabasha's Monthly Action magazine according to the official website of the soon-to-be-released live action movie based on it. The story is about 16-year-old Takamiya Naho, who receives a note from her 27-year-old self with a warning; keep an eye on transfer student Naruse Kakeru. The series first appeared on Crunchyroll's streaming manga site, but has also been licensed in print by Seven Seas Entertainment. I'm very interested in this series. I love the sci-fi aspect and am really looking forward to reading it. The series will end at 5 volumes, though Seven Seas will release their edition as two omnibuses.
Knights of Sidonia has been a good seller for boutique publisher Vertical Comics, but the creator Tsutomu Nihei has announced that the series is "headed toward its climax" in a special book to be released with Kodansha's Monthly Shonen Sirius magazine. The series follows Nagate Tanikaze a pilot who helps to protect the seed ship Sidonia from the terrifying threat of the Gaunas, an alien species that threats all human life. The series has been fairly popular and was one of YALSA's Great Graphic Novels for Teens for 2014. There are currently 14 volumes available. While there's no indication how long this climax will take, I do hope Vertical can get a hold of the special book this announcement came in. It includes several one-shots by other manga artists. It would be such a boon for Sidonia fans!