Tsukimiya is a cursed mixed blood. Half angel and half vampire, she is shunned by both angels and demons. The only way to rid herself of the curse is to drink the blood of a pure demon, but they are had to come by. Hinata is another mixed blood looking for the same cure. They finally find in it in Tsuzuki, a candidate for godhood and must collect God's Relics during the current Crusade in order to attain it. Satsuki, a fallen angel, has the same goal. In between the two sides is the human organization Arcana, who has their own ideas about godhood. Tsukimiya finds herself tangled up in the web all these groups have woven, when all she wants is to live a long and normal life.
Bloody Cross Volume 1-5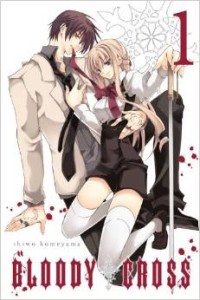 By Shiwo Komeyama
Publisher: Yen Press
Age Rating: Older Teen
Genre: Fantasy/Action
Price: $11.99
Rating:





I had my doubts about Bloody Cross. Considering the publisher, both here and in Japan, I feared this series might have a heavy male gaze aspect to the art. I wasn't wrong. Sadly that isn't this title's worse problem. I decided to give it a try after seeing some positive comments about the banter between the two main characters, but that would only matter to me if I actually liked or cared about them.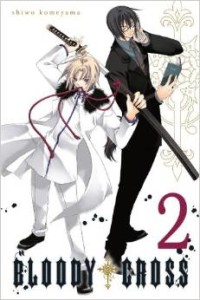 Tsukimiya is the protagonist of Bloody Cross. It's her story that's being played out as she encounters and has to deal with all the other characters she crosses paths with. She is desperate at the beginning. Her curse is nearly up. She has to find a pure demon to dispel it. She lets Hinata in, thinking he was an angel who would help her, not another mixed blood that would betray her. This seems to be her major weakness, especially with Hinata. She trusts the wrong people, or even if she doesn't trust them, they still get the upper hand on her. This really shouldn't be an issue. Trusting should be seen as something good in a character, but it doesn't completely work for me with Tsukimiya. She's a capable fighter and puts her talents to the best use, but she isn't too smart, so her trust seems to come from just not knowing better. I found this really frustrating with her and Hinata, and her "attraction" to him just felt wrong.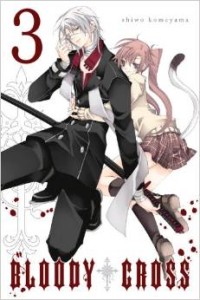 Betrayal seems to be the theme of this series, because that is what all the characters do to each other. The first time a character is introduced, it usually ends in someone getting stabbed in the back, sometimes literally. Every single character in this series has an agenda, and will use everyone else to reach it. Even the angel god candidate Tsuzuki betrays Tsukimiya and Hinata the first time he works with them. No one does anything out of some good will. There is always a hidden motive behind everything. As a reader, I found it very disturbing to not have someone I could put even an ounce of faith in. It's hard to call anyone an antagonist, since everyone seems to be one. Arcana and its head Izumi, who plots to become god in the next crusade, is no better than Satsuki, the fallen angel, and even allies with him at first.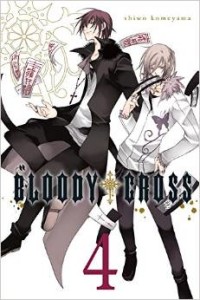 Then there's the overwhelming male gaze. Tsukimiya is only one of two females in the series, and she is of course very well endowed. And because she is usually the braun to Hinata's magic, her clothes area always getting torn. Whether it's to reveal her cursed mark on her breast, or just for some touching from a oogling Hinata, Tsukimiya has to have her shirt split down the middle, and it's left that way for several chapters, until the next time.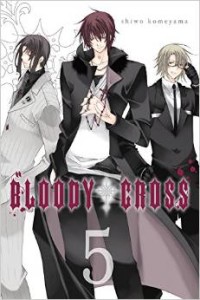 The art is very typical of a Square Enix title with the girls beautiful and big-breasted, while the men are hot and slim. The action isn't so bad. Tsukimiya's use of her vampiric powers is good as she uses it to sniff out lies (usually too late), and controls her blood like a remote blade. Hinata is at least competent with his magic, being useful even after he's pulled another back-stabbing. If there was a character I could like, the closest would be Hanamura, the demon attendant of Tsuzuki. He's very much the butler type, very polite, organized, and a great cook. But he only stands out because everyone else is so terrible.
I can't find much good to say about Bloody Cross. I can't really recommend it either. The story isn't badly written or drawn. The characters are just so unlikable. The mangaka even said as much in one of the afterwards. I deal with enough unlikable people in real life. I don't need them dominating my leisure as well. If you like constant betrayal and characters you can't like or trust, then pick this one up, otherwise, just give it a pass.