Using the social media platforms of Twitter and Tumblr, Seven Seas Entertainment has announced 3 new titles to their continually growing stable of titles.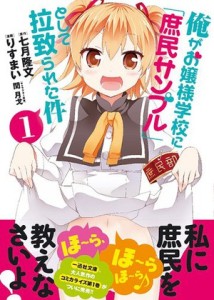 I Was Abducted by an Elite All-Girls School as a Sample Commoner is the first license and started as a light novel series. With a title like that, could have been anything else? The manga adaptation started in 2012 in Ichijisha's Monthly Comic Rex. The series follows Kagurazaka Kimito. He is kidnapped one day and taken to an Elite All-Girls school that is located in an isolated, forest-covered mountain. The girls are all from the richest and most prestigious families, and are learning to be the perfect ladies. When several recent graduates have trouble adjusting to the outside world, it is decided to bring in a someone to help with the transition. Kagurazaka is chosen not just for his ordinariness, but also because school officials believe him to be gay. Kagurazaka must go along with this or face castration. This series fits in perfectly with one facet of Seven Seas' audience, but I'm not part of that one. The series is currently 7 volumes, and Seven Seas will release their first volume in May 2016.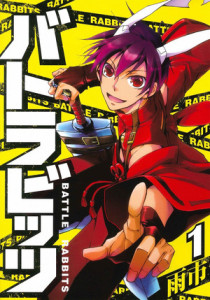 Battle Rabbits, the second license, also comes from publisher Ichijisha, this time from Monthly Comic Zero Sum. It is about Kokuryuu Kagyua, who as a boy witnessed his father being killed by a demon, but no one believed him. Now a teenager, he is saved by a young woman named Mao, a skillful warrior with bunny ears from the same fate as his father. He is inducted into a secret organization of other-worldly individuals whose goal is to protect the Earth from monstrous invaders. Now a Battle Rabbit, strange powers awaken in Kagyua, allowing him to not only fight off the creatures but to seek revenge for his father. This series is created by Yuki Amemiya and Yukino Ichihara, the team behind the series 07-Ghost which was rescued by Viz Media. This series has potential, not just because of the creators, I liked 07-Ghost, but also because of the magazine. Comic Zero Sum is where another favorite manga of mine comes from, Saiyuki, so I'll be watching out for this one. Only one volume has been released so far, while its release hear is scheduled for July 2016.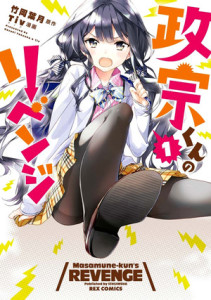 The last license also involves revenge. Masamune-kun's Revenge is about a boy, Makabe Masamune, who  was bullied by a girl, Aki Adagaki, for being overweight when he was young. Determined to get revenge, he undergoes a personal transformation after a strict regiment of self-improvement. Now handsome, popular with perfect grades and good at sports, Masamune transfers to Aki's school, ready to confront and show the humiliation he felt all those years ago, but things don't always go as planned. I'm not sure where to stand on this one. It might be interesting, or it might just fall flat as most rom-coms do with me. I'll have to wait and see. There are five volumes currently available, and the first volume will be available here in June 2016.