On her first day at her new school, Penelope – Peppi – Torres reminds herself of the basics; don't get noticed by the mean kids and  join groups with similar interests. But when she trips into a quiet boy in the hall, Jaime Thompson, she's already broken the first rule, and the mean kids start call her the "nerder girlfriend." How does she handle this crisis? By shoving poor Jamie and running away! Falling back on rule two and surrounding herself with new friends in the art club, Peppi still can't help feeling ashamed about the way she treated Jaime. Things are already awkward enough between the two, but to make matters worse, he's a member of her own club's archrivals – the science club! And when the two clubs go to war, Peppi realizes that sometimes you have to break the rules to survive middle school!
Awkward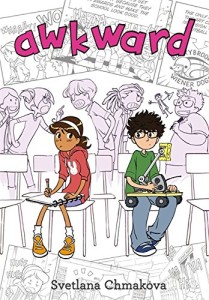 By Svetlana Chmakova
Publisher: Yen Press
Age Rating: All Ages
Genre: Slice of Life
Price: $11.00
There aren't a lot of creators whose work I will pick up based on their name alone, but Svetlana Chmakova is one of those select few. I became a fan of her work back when Dramacon first came out from Tokyopop. I loved her series Night School, and even pushed through the Witch and Wizard adaptations from Yen Press, just because she did them. So I wasn't worried when Awkward came out, I was sure it would be another entertaining story, and as expected, she did not disappoint.
The first half of Awkward introduces Peppi Torres and Jaime Thompson, members of the art and science club. Peppi is the new girl who draws attention to herself on her first day, causing her to push Jaime away when he tries to help her. She is introverted, and doesn't like any attention drawn to herself, good or bad. She loves art, but discovers science can be fun too after a field trip to the Discovery Center and geo-caching hunt.  Peppi hates what she did to Jaime and agonizes over it for the most of this first half.
Jaime is the quiet type who keeps to himself and usually has his head stuck in a book. He is low-key and mostly ignores the bullying that causing Peppi to overreact. He holds no grudge against her, and becomes her science tutor when she struggles with the classwork. Jaime doesn't share the science club's animosity toward the art club, and eventually the two become friends.
Also set up is the rivalry between the art and science clubs. Each club looks down on the other, with science club calling the art club dumb while art club considers science boring and nerdy. This rivalry becomes the focus of the second half as the two clubs must compete to get a table at the upcoming school fair. But things get ugly fast, leaving members of both clubs without a table or a club.
I really enjoyed Awkward. It has a great cast of characters. Peppi and Jaime make great leads, but they are also supported by a varied and diverse cast that makes up both clubs. Jensen and his obsession with sunspots was funny. Maribelle was the assertive leader of art club with her own fears of disappointing her father's high expectations. Derek, the leader of the science club could be a smug jerk, but was just as quick to go along with Peppi and Jaime's idea for a joint project. I also really liked how seamless the characters diversity was shown. Characters of color were given skin tones, while the white characters went without. But it's not something you notice unless you actively look for it.
Chmakova did an excellent job portraying life in middle school. There is plenty of angst from Peppi agonizing over how she treated Jaime, and her friends distancing themselves from her when she yells at both clubs when they continue fighting after being shut down for it. The characters home life is also shown and how it can affect their school life. Maribelle is very driven to succeed because she doesn't want to disappoint her father, and to some extent may even fear him. It's this fear that leads her to doing something she wouldn't do normally. The school bullies, Foster and Yanic aren't shown to be 2D baddies. They do it for the reaction and attention, but back off when the wind gets taken out of their sails. I also really enjoyed how the title of the book was worked into the story, with it being used to illustrate some of the scenes. It was a great touch and helped pull the story together.
I loved Chmakova's art. It has been fun seeing her style continue to grow and refine over the years, and become something that is recognizably her own. The muted color palette works really well with the story. There is a few pages in full color that show the wonders of the world, and is a bit of an awakening for Peppi about the marvels that science can hold.
The only complaint I have with the book is a minor one. I didn't care for the rivalry between science club and art club. It does unfortunately accurately portray how a lot of people see the two disciplines, but the story makes up for it by showing in the end, that they two can not only coexist, but thrive when used together. Both disciplines really do need some amount of creativity to be done well, and this story does a good job of illustrating that.
Awkward is an entertaining and enlightening story. The characters are delightful and engaging, and the story holds up well to additional readings. The book is aimed at tween-to-teen readers, but anything who has been through middle school will be able to appreciate it.
Rating:





Review copy provided by publisher.