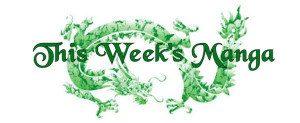 It seems Diamond Distributors finally found their shipment of Viz Media manga. It's about f-ing time. But this of course makes things more difficult for the direct market buyer as there are some really good titles coming from other publishers, so those on a tight budget will have some hard choices to make.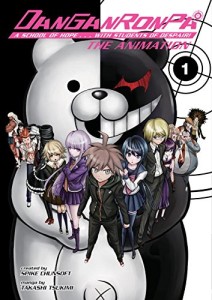 Starting with those other publishers, Dark Horse Comics tops my list. Danganronpa started as a video game, but has expanded to anime and manga. It's a sort of murder mystery/courtroom drama, as a group of students are locked up, and the only way out is to murder one of the other students and get away with it when a trial is held after every murder. My oldest daughter was into this for a while, and told me a lot about it, so that sparked my initial interest. But after reading School Judgement from Viz Media with the main characters' love of "ronpa," I'm more interested in it than before!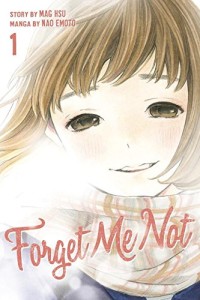 Other publishers that have new titles debuting include Kodansha with a new shojo Forget Me Not about a man who in an accident and saved by a woman who know a lot about him, but who he doesn't remember. The volume is a series of flashbacks to the man's life as tries to figure out who the woman is. Paradise Residence is the new manga from the creator of Oh! My Goddess and is about a girl starting at an all-girls boarding school. It's a slice of life that follows the girl and all the people at the boarding school. Vertical debuts a new title, but it is one that doesn't thrill me. Mysterious Girlfriend X the growing relationship between two teens, which doesn't sound so bad, until you add in that the boy is addicted to the girl's drool. Yes. I said drool. That's just too weird for me. Yen Press' debut title is Dimension W, a sci-fi title by the creator of Cat Paradise, that is set in a future where the energy crisis is solved, but there is a deeper mystery behind it. It looks interesting.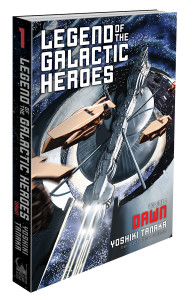 In the Viz flood, there are both shonen and shojo titles as well as Signature titles. Basically, everything Viz would release in a month is coming out this week. There is only one debut title, Shuriken and Pleats, the new shojo from the creator of Vampire Knight. But there is a new volume of Idol Dream, and the debut of Legend of Galactic Heroes, the prose novel from their Haikasoru imprint. One early review of the novel proves you can never please fans. It was hilariously bad.
Full List Per Diamond Distributors/Amazon:
DARK HORSE COMICS
Danganronpa The Animation Volume 1 TP, $12.99
KODANSHA COMICS
Forget Me Not Volume 1 GN, $10.99
Livingstone Volume 2 GN, $10.99
Paradise Residence Volume 1 GN, $13.99
VERTICAL COMICS
My Neighbor Seki Volume 7 GN, $10.95
Mysterious Girlfriend X Volume 1 GN, $15.95
VIZ MEDIA
Bleach Volume 66 GN, $9.99
Bloody Mary Volume 2 GN, $9.99
Dragon Ball 3-In-1 Edition Volume 12 TP, $14.99
Idol Dreams Volume 2 GN, $9.99
Kiss Of The Rose Princess Volume 9 GN, $9.99
Komomo Confiserie Volume 3 GN, $9.99
Legend Of The Galactic Heroes Novel Volume 1 SC, $15.99
Nisekoi False Love Volume 14 GN, $9.99
One Piece 3-In-1 Edition Volume 15 TP, $14.99
One Punch Man Volume 5 GN, $9.99
Pokemon The Movie Hoopa And The Clash Of Ages GN, $9.99
Pokemon XY Volume 6 GN, $4.99
Ranma 1/2 2-In-1 Edition Volume 13 TP, $14.99
Rin-Ne Volume 20 GN, $9.99
Seraph Of The End Vampire Reign Volume 8 GN, $9.99
Shuriken And Pleats Volume 1 GN, $9.99
Skip Beat Volume 36 GN, $9.99
Terra Formars Volume 11 GN, $12.99
World Trigger Volume 9 GN, $9.99
Yo-Kai Watch Volume 4 GN, $9.99
Yu-Gi-Oh Zexal Volume 8 GN, $9.99
YEN ON
No Game No Life Light Novel Volume 4 SC, $14.00
YEN PRESS
Dimension W Volume 1 GN, $13.00
KODANSHA DIGITAL
Coppelion Volume 18, $10.99
Space Brothers Volume 21, $10.99
VIZ MEDIA DIGITAL
Weekly Shonen Jump Volume 215, $.99
YEN PRESS DIGITAL
Hanada-kun Chapter 28, $.99
My Monster Girl's Too Cool For You Chapter 32, $.99
Today's Cerberus Chapter 31, $1.99