Shueisha's Weekly Shonen Jump magazine has announced in its 16th issue that Hunter x Hunter by Yoshihiro Togashi is slated to return to serialization in the issue due out on April 18.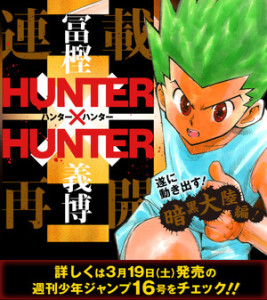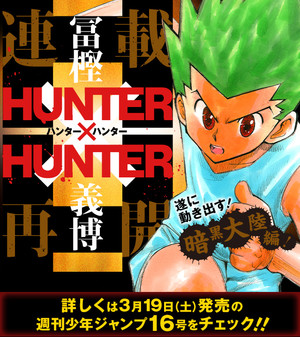 This is the first news we've had about the series since it was put on hiatus back in August of 2014, when a 2 week hiatus turned into nearly two years. Hunter x Hunter and its creator, Yoshihiro Togashi has been beleaguered by problems since the first extended hiatus back in 2006. This current hiatus will be the longest the series has seen, going over the previous length of 79 issues.
A lot of people have given up on the series ever finishing. While one can be understanding when health issues are involved, Hunter x Hunter hasn't seen a single year without some sort of hiatus, and rumors that Togashi lost interest in the series hasn't helped any.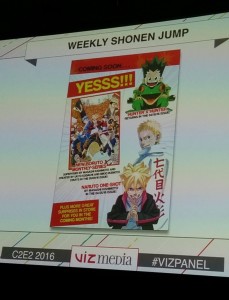 Viz Media has announced at their C2E2 panel that they will be simulpubbing the series in their digital edition of Weekly Shonen Jump. It'll be like a return to the 1990's as it and a Naruto/Boruto one-shot will make an appearance. The Japanese issue will also include a Yu-Gi-Oh! two chapter story to promote then new movie. I'm sure it won't be long before that makes it over here too. The simulpubbing might help some, so fans don't have to wait too long to get the story again. Those that will continue to follow it anyway.
I read Hunter x Hunter for a while, but lost interest somewhere in the teens. I do give kudos to anyone that will continue to follow the series after being let down so many times. I don't know if I would have the patience. But then again, I kept my Millennium Snow volumes, even with no real hope in sight of it finishing, and still hold out hope for Nana even though it has even less of a chance of finishing than Hunter x Hunter. But neither of those mangaka have let anyone down, not so constantly and consistently.