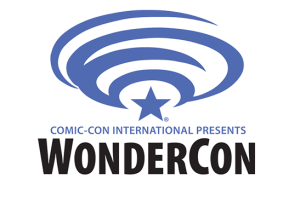 Wondercon, for those who may not know, is a younger sibling to Comic-Con International's San Diego Comic Con. For many years it was held up north in San Francisco, but starting in 2012 is moved down to Southern California in the LA area. It's first four years were spent taking over the Anaheim Convention Center, but this year, the con moved up to the Los Angeles Convention Center. Since its move down to SoCal, its major manga publisher presence has been practically non-existent. Other than a Viz Media booth the first year in 2012, there have been no panels or booths on the exhibition floor. Not even vendors selling manga come to the show. So imagine my excitement when I learned that Kodansha Comics would be coming to Wondercon, and have both a booth AND a panel!
I stopped by the booth on Sunday to speak with Ben Applegate, Director Publishing Services for Kodansha Comics/Penguin Random House and Co-editor of the Attack on Titan Anthology.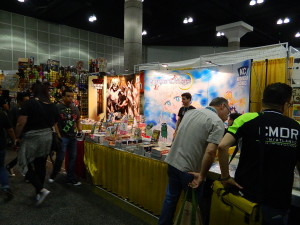 I asked him if he had enjoyed his time at Wondercon. He responded that since this was Kodansha's first year at Wondercon, it has been both a positive experience and a learning experience. The decision to come to Wondercon was made late, putting their booth in the Gold/Silver Age Comics section of the floor, but the response from attendees was good. They got to meet a lot of American comic fans and introduce Kodansha's line to them. They were really looking to get the word out about the Attack on Titan Anthology to comic book fans, and gauge their interest in it and Kodansha properties in general. They were doing a survey at the booth that entered participants in a drawing for an iPad mini and gave them one of 4 exclusive trading cards featuring art from the Anthology.
I then asked how the smaller, more general audience Wondercon compared to bigger or more targeted cons such as New York Comic Con or Anime Expo. He didn't feel there was much of a different other than the mix of fans. Wondercon had a more comic-focused mix, but again, the response from them about Kodansha books was favorable.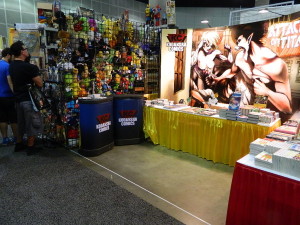 I asked what books had sold the best over the weekend, and his answer was swift; Princess Jellyfish, which had just come out this Tuesday, and Junji Ito's Yon and Mu. Yon and Mu got a hearty recommendation from Jeanine Schaefer, the other Co-Editor of the Attack on Titan Anthology at the panel the day before, but really Yon and Mu really sells itself.
Wondercon has a strong cosplay contingent, so I asked if Ben had seen any cosplay from any Kodansha titles. Attack on Titan, Sailor Moon and Fairy Tail, all popular and strong sellers were represented. His personal favorite was of Evergreen from Fairy Tail. It's a character he doesn't see very often.
In my final question I asked if he though Kodansha would be back next year. He didn't have a definitely answer for this. There was still a lot of data that needed to be sorted through and dissected. The booth and panel at Wondercon were meant to spread the word on the Attack on Titan Anthology and market research, but he certainly wasn't against it.
I was really happy personally to see a manga publisher at a So Cal mid level con. Yes, we have SDCC in the area, but it's become nearly impossible to attend between tickets, the hotel and parking. For a manga fan on a budget, it's nice to be able to go to a con and hear some announcements in person, rather than having to read them on social media or the news sites. I hope other publishers, particularly those on the west coast (Viz Media and Seven Seas Entertainment, I'm looking at you) will consider attending Wondercon in the future.