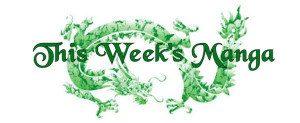 Variety is the name of the game with this week's new releases, with several different publishers releasing both new titles as well as ending a few. Diamond Distributors is still a little wonky with regards to Viz Media's books. Maybe they are trying to make up for last month's delays.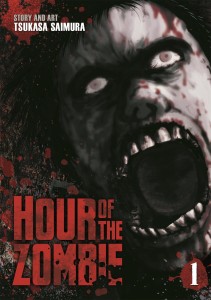 Lots of new titles roll out this week. Seven Seas releases Hour of the Zombie, a new take on the Zombie genre that actually sounds interesting. I'm not a fan of zombie books, and it takes something really special to catch my eye, but Hour of the Zombie just might do it. Vertical Comics releases the very odd comedy Nichijou about high school kids and the odd situations they get into. I think it will appeal to a very particular sense of humor. From Viz Media comes Monster Hunter Flash Hunter, which is based on the popular video game franchise. I've been looking forward to this one.
With so many debuting, it's natural that a few will be rolling off as well. Kodansha Comics says good-bye to My Little Monster, their shojo series that made it to the YALSA Great Graphic Novels for Teens last year. It's really a fun series, and I'm sad to see it go. Viz Media also wraps up Library Wars: Love and War with Volume 14. I've had a conflicted relationship with this series, but over all I've enjoyed it. I'm glad it made it to the end.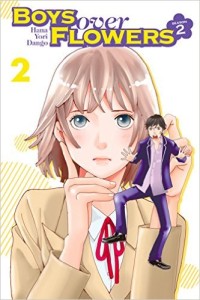 Once again, the Viz Media releases from Diamond seem off. There are titles from Shonen Sunday, Signature, and Shonen Jump and Shojo Beat. Really, the Shonen Jump and Shojo Beat titles shouldn't be out until next week, but that is the one advantage to Diamond's wacked out schedule; you can get some titles early. Also out from Viz in their Digital Only line up is the second volume of Boys Over Flowers Season 2 Volume 2. If you haven't been following the free chapters, you'll have to get this now, since Viz takes down the free chapters when the volume comes out. Also don't delete them from your digital device if you have them there. You can't get them back (voice of experience).
Full List Per Diamond Distributors/Amazon:
KODANSHA COMICS
My Little Monster Volume 13 GN, $12.99
Seven Deadly Sins Volume 13 GN, $10.99
UQ Holder Volume 7 GN, $10.99
Your Lie In April Volume 6 GN, $10.99
ONE PEACE BOOKS
Rising Of The Shield Hero Manga Companion Volume 2 GN, $11.95
SEVEN SEAS ENTERTAINMENT
Akuma No Riddle Volume 3 Riddle Story Of Devil GN, $12.99
Haganai I Don't Have Many Friends Volume 13 GN, $12.99
Hour Of The Zombie Volume 1 GN, $12.99
SUBLIME
Midnight Stranger Volume 1 GN, $12.99
VERTICAL COMICS
Nichijou Volume 1 GN, $10.95
VIZ MEDIA
Assassination Classroom Volume 9 GN, $9.99
Case Closed Volume 58 GN, $9.99
Demon Prince Of Momochi House Volume 4 GN, $9.99
Dorohedoro Volume 18 GN, $12.99
Food Wars Shokugeki No Soma Volume 11 GN, $9.99
Honey So Sweet Volume 2 GN, $9.99
Library Wars Love And War Volume 15 GN, $9.99
Magi Volume 17 GN, $9.99
Monster Hunter Flash Hunter Volume 1 GN, $10.99
Monster The Perfect Edition Volume 8 GN, $19.99
My Love Story Volume 8 GN, $9.99
Naruto 3-In-1 Edition Volume 14 TP, $14.99
School Judgment Gakkyu Hotei Volume 2 GN, $9.99
So Cute It Hurts Volume 6 GN, $9.99
Tokyo Ghoul Volume 6 GN, $12.99
Toriko Volume 33 GN, $9.99
Twin Star Exorcists Volume 4 GN, $9.99
Yu-Gi-Oh 5D's Volume 9 GN, $9.99
YEN ON
Durarara Light Novel Volume 3 SC, $14.00
YEN PRESS
Chaika The Coffin Princess Volume 4 GN, $13.00
Honor Student At Magic High School Volume 2 GN, $13.00
Karneval Volume 4 GN, $20.00
Sword Art Online Progressive Volume 4 GN, $13.00
VIZ DIGITAL
Boys Over Flowers Season 2 Vol 2, $6.99
Judas Volume 2, $4.99
Weekly Shonen Jump Volume 217, $.99
YEN PRESS DIGITAL
Aphorism Volume 3, $6.99
Crimson Prince Volume 3, $6.99
Renaissance Eve Volume 3, $6.99
Sekirei Volume 3, $6.99