As usual, Yen Press has an eclectic list of new licenses. Not a lot really interests me. I never got into Miss Peregrine's Home for Peculiar Children, so an original title by the artist doesn't do much for me. Neither does work from the creators of Sword Art Online and Deadman Wonderland. But there are a few that have piqued my interest. Big Order might have some potential, if the characters are interesting enough. Rokka – Brave of Six Flowers has a lot more going for it. Action, Fantasy and Mystery; I'm sold. Can't wait for both the light novel and manga.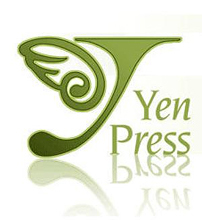 LOS ANGELES, CA (7/1/2016) – Yen Press, LLC, manga and graphic novel publisher, announced an exciting catalog of upcoming titles at Anime Expo today.
Yen Press revealed the addition of these popular manga and light novels to their publishing schedule:
From the acclaimed author of Sword Art Online and Accel World, Reki Kawahara, comes THE ISOLATOR (manga), beautifully illustrated by Naoki Koshimizu.
An utterly unique romance for the holidays. From Cassandra Jean, illustrator of both the Miss Peregrine's Home for Peculiar Children and Hollow City graphic novels, we're excited to announce the very first original graphic novel from CJ, REINDEER BOY, coming this winter.
From the creator of Future Diary, Sakae Esuno, the original BIG ORDER manga.
SMOKIN' PARADE, the next offering from writer Kataoka Jinsei and illustrator Kazuma Kondou, the creators of Deadman Wonderland.
Both the manga and the light novel adaptations of ROKKA – BRAVES OF THE SIX FLOWERS.  Written by Ishio Yamagata and illustrated by Miyagi (novel) and Kei Toru (manga).
MURCIÉLAGO by Kana Yoshimura where our main character lands her dream job as a hitwoman for the Tokyo police!
 About Yen Press, LLC
Yen Press, LLC is a joint venture between Kadakowa Corporation and Hachette Book Group, dedicated to publishing manga and graphic novels for adults and young readers. Founded in 2006, Yen Press has quickly risen to become one of the largest and most prolific publishers of manga and original graphic novels in the North American marketplace and has become a driving force in the introduction of light novels to new readers through its Yen On imprint. For more information, visit www.yenpress.com.