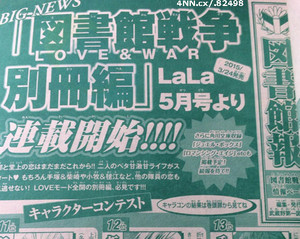 Back in September, it was announced that the manga Library Wars:Love & War was going to end in the December issue of Hakusensha's LaLa magazine.  That very same issue, with the final chapter of the series, is now also announcing the title's return. Toshokan Senso: Love & War Bessatsu-hen, Library Wars: Love & War Extra, would begin as a new series in the May issue of LaLa out in March.
It's hard to say what this new series would cover. The main series went 15 volumes and could have easily covered all 4 of the original light novels. A second series of light novels, titled Bessatsu Toshokan Senso, Supplemental Library Wars, was published from 2008-2009. Considering the similarity in the titles, I think it makes sense that this new series will be based on the second. All we know for sure is that it will continue the adventures (and loves) of Iku, Dojo, Shibasaki, Tezuka, Komaki and Marie.
Back when it was announced that the first series was ending, I wasn't sure how I felt about it. I hate the Media Betterment Committee and everything they do to undermine or outright attack the Library Forces. But I love all of the characters, so in the end I'm gonna say a new series of Library Wars: Love & War is a good thing. If there are more stories to tell about these characters, I want to read them.