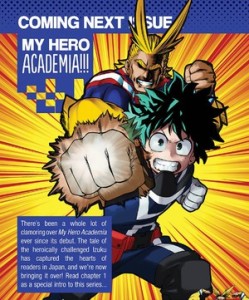 Weekly Shonen Jump, both the US digital and the Japanese print magazines have announced titles to begin and end in their respective magazines in the coming weeks. Starting in the US, Viz's Weekly Shonen Jump will debut My Hero Academy by Kohei Horikoshi, the creator of the short-lived series Barrage. My Hero Academy follows Izuku Midoriya, a boy with no powers in a modern-day world where people with super powers have become common place. The series started in July of 2014, and Viz will run the first chapter in the February 2 issue, and begin simultaneous release in the next issue out February 9. Both of these issues will be free to read as part of Viz's Weekly Shonen Jump Third Anniversary.
Over in Japan, the sports medical manga Sporting Salt ends in the first issue of Shueisha's Weekly Shonen Jump out in February. It will end at three volumes. The story follows Hiroyuki Shioya, a high school student who decided to become the best sports doctor in Japan, and starts out by helping athletes in trouble with their issues and improving their performance. Sporting Salt was the first series run in the Viz's "Jump Start" initiative, but didn't make the cut as a regular series.
While one series ends, another four begins. Starting in the issue out February 9, four new titles will debut over the next four weeks. Kagamigami, Mirror God, is by Toshiaki Iwashiro, the creator of Psyren. His detective story will debut that week. Black Clover by Yuki Tabata will debut February 16. Kaizo Ningen Rogy, Cyborg Rogy by Yuu Miki will start in the issue out February 23, and Ultra Battle Satellite by Yusuke Utsumi will debut last on March 3. There's been no announcement, but hopefully some of these titles will be previewed in Viz's Weekly Shonen Jump as part of their "Jump Start" initiative. Kagamigami is the title I'm most interested it. We can't have enough detective manga.