At their panel at Katsucon over Valentine's Day weekend, Vertical Comics showed readers the manga love with three new licenses; 1 manga and 2 light novel series.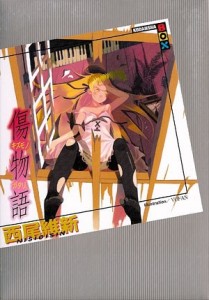 Kizumonogatari is part of the Monogatari light novel series by writer NisiOisin. While Kizu is the third novel in the series, it is a prequel to the first, Bakemonogatari. It tells the story of how protagonist Koyomi was turned into a vampire by the female vampire Shinobu, and his journey to return to being human. I've heard about the Monogatari series, but never knew what they were about. With the description of mystery and supernatural, I'm now interested. So far, only this volume of the 18 available so far has been licensed. More will depend on how well this one does. It will ship in November of this year.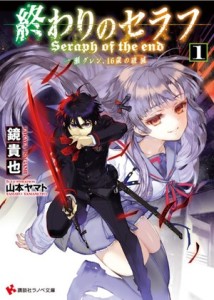 Seraph of the End is a series already familiar to manga fans. Viz Media has been releases the manga and running concurrent chapters with Japan in Weekly Shonen Jump. This license from Vertical, Guren Ichinose, Catastrophe at 16, is another prequel to the main story. It follows Guren Ichinose in his early days, before he became a Lieutenant Colonel in the Japanese Imperial Demon Army. There are currently 4 light novels, and Vertical plans to publish them as 2-in-1 omnibus editions. I have to read more of the manga to see if these light novels will hold any interest for me. I wasn't impressed with the first volume, but the first three volumes made it to the YALSA GGNT list, so I'm going to give the series a second chance. No release date was announced for omnibus editions, but I would expect another end of the year release for it.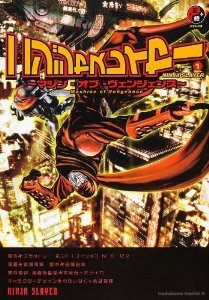 Ninja Slayer: Machine of Vengeance is the final license announced by Vertical Comics. It is a manga based on a light novel series originally written by Americans Bradly Bond and Phillip Ninj@ Morzez and translated and published in Japan. This is the first of two manga adaptations published. Ninja Slayer takes place in a dystopian future where ninja souls have been resurrected and now wreak havoc on the city of Neo-Saitama. The story follows Kenji Fujikido, a salary man who lost his wife and daughter to a ninja turf war, and in nearly losing his life, is possessed by an enigmatic ninja soul. Fujikido survives and becomes a Ninja Slayer, destined to kill evil ninja and takes on the Soukai Syndicate. Ninja Slayer sounds like a title fans of sword wielding story like Blade of the Immortal or Crying Freeman would enjoy. It's not really my cup of tea, so this is one I will pass one. It is scheduled to be released in October.
It's an interesting selection from Vertical. Light Novel fans have much to rejoice, but they will only see more if they put their money where their mouth is. More titles are promised to be on the way, so here's hoping there will be more manga announcements this time around.