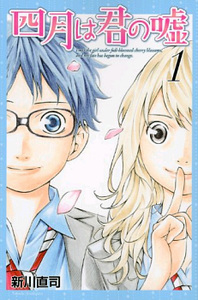 Just in time for year-end, Kodansha announced one last title on its Tumblr account. Your Lie In April is by Naoshi Arakawa, a relative unknown to Western readers, and currently has an anime airing in Japan that is also streaming on Aniplex Channel, Hulu, and Crunchyroll.
Your Lie in April is about Kosei Arima, a piano prodigy until his cruel taskmaster of a mother dies suddenly. His life forever changed, he abandons piano, and resigns to live in a colorless, monotonous world. His bland world is shaken when he meets Kaori Miyazono, a violinist with an unorthodox style, and possibly the only one who can teach him not only to play, but to live again.
This series is currently at 10 volumes, with the 11th due out in May 2015. Kodansha plans to publish the first volume here in Spring 2015. This series looks really cute, and it features music, so it's got my attention. It also won the Best Shonen Category at Kodansha's 37th Annual Manga Awards last year. With the anime preceding it, it will at least have some name recognition when it comes out to draw people in and good writing to keep them. I'm looking forward to it.