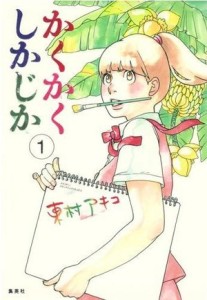 Back in March, the winner of the 8th annual Manga Taisho award was announced. Of the 14 titles nominated, Kakukaku Shikajika by Akiko Higashimura was chosen to take the prize this year. Higashimura is mostly a josei artist, so her work isn't widely known in the US, but she does have one that his constantly being requested in publisher surveys; the josei Kuragehime–Jellyfish Princess.
Kakukaku Shikajika, which can be translated as Such and Such, is a semi-autobiographical series about Higashimura when she was in her third year in high school. Through a friend, she starts going to an art class where the art teacher, Kenzo Hidaka, who intimidates his students by yelling at them and using a bamboo sword to force them to focus on their art work. The series is complete in 5 volumes, and was published in Shueisha's women's magazine, Chorus.
Manga about manga titles have been doing pretty well in the west, so I think this one would too. It's a short series, only 5 volumes, and since Viz Media has been experimenting with josei-as-shojo titles, I think this series would really do well. The subject is something both men and women would be interested in reading, and the setting makes it more fitting for the 16+ shojo age range. I hope Viz Media takes a serious look at this series, especially now that it has won an award. Maybe if it does well enough, we could be one step closer to Jellyfish Princess.