Viz Media's Weekly Shonen Jump has been seeing plenty of changes, just as the Japanese magazine does with titles coming and going. Lately, Viz's WSJ has added two new regular titles to their line-up; Black Clover and the Naruto spin-off Naruto: The Seventh Hokage and the Scarlet Spring.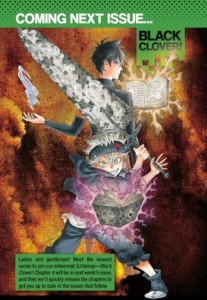 Black Clover is about a boy named Astra. He and another boy named Yuna were abandoned at the same time at the same place as babies and have since become best friends both with the same goal; to become the next Wizard King. The only problem with their plan is while Yuna his highly skilled at using magic, Astra can't. Astra isn't discouraged, even at a coming-of-age ceremony, where Yuna receives a magic book with the legendary four leaf clover while Astra receives nothing. Sometime later, when Yuna is nearly defeated in battle, Astra's true power is revealed as he is able to call on a book with a black five-leaved clover and wield powerful anti-magic. Astra never sees the book, but the pair head out into the world together to continue to compete for their goal.
Black Clover started as a three chapter preview for Viz's Jump Start program back in February and became a regular at the end of March. It's not too surprising with the superficial similarities to Naruto. A boy who can't use the power everyone else can who wants to be the strongest, and a best friend who is better than him who is also his rival. Yeah, doesn't sound like the setup for Naruto at all. /sarcasm. I haven't read any of Black Clover yet, but it does sound like it has the makings of a hit for Viz.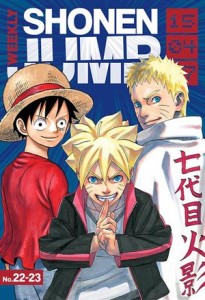 Naruto recently ended its serialization after 15 years, but it seems you can't keep an orange ninja down. The new spin-off, Naruto: The Seventh Hokage and the Scarlet Spring picks up where the original manga left off. Naruto is now Hokage, with his image on the mountain side like he always dreamed. But in a karmic twist, he has a son, Boruto, who is just as bratty and stubborn as he was. The series features not just Naruto's son, but all the other children of the heroes of Konoha.
Naruto was one of Viz's biggest hits, so it's no surprise that it would continue the franchise along with the Japanese Weekly Shonen Jump. Long time Naruto fans can stave off withdrawal for a little while longer, at least until summer, according to an interview with Kishimoto back in November.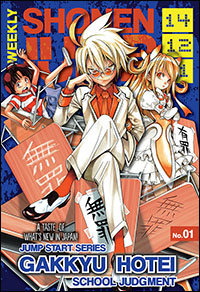 But with these additions, at least one title will be leaving. Gakkyu Hotei: School Judgement, the court drama set in an elementary school, is ending serialization in the issue out May 11. The series started as a Jump Start! series last summer and was added to the magazine in December. It was about Abaku Inugami, a student defense lawyer at his elementary school where students can take their fellow students court in the government sanctioned School Judgement System. The series is drawn by Takeshi Obata, and written by Nobuaki Enoki. I really enjoyed the chapters I was able read in the free issues Shonen Jump made available in January for their anniversary. I'm definitely going to be picking up the collected volumes no matter what format they are released in.
If you liked the Jump Start! of Cyborg Roggy, don't hold your breath for it to join the magazine. It is ending in the same issue as Gakkyu Hotei. The Japanese Weekly Shonen Jump is debuting three new titles with these endings, so we will have to see if there will be another round of Jump Start! for them.